Kevin Hart Will Take Precautionary Measures With Kanye At MTV VMAs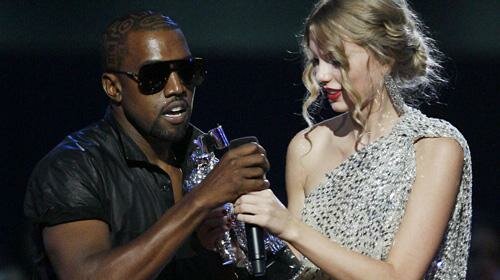 MTV VMAs host Kevin Hart recently divulged some very interesting information as o the precautionary measure he will take for Kanye West so he doesn't storm the stage again on today like he did in 2009.
Kevin Hart has threatened to put a seatbelt on Kanye West so he doesn't storm the stage again on Thursday.
Everyone may recall that Yeezy was the topic of controversy at the Video Music Awards in 2009 when he interrupted Taylor Swift's speech, after she won the award for Best Female Video, to insist Beyonce Knowles should have won and Kevin is taking no chances this year.
Hart says that he is ready for anything, "What we did this year was we banned the artists who could embarrass themselves."
"With Kanye we've got a seatbelt for his seat that he can't get out of, little things that they never thought of in the past to make sure it all goes ok this year.
"No, actually I hope someone does something stupid though, that's what it's all about. We need stuff to talk about the next day. It's the MTV VMAs. This is where all the stupid stuff can happen and should happen."
Kevin also mentioned that Chris Rock, who presented in 1997, 1999 and 2003, was his favorite host thus far.
"Chris Rock was my favourite VMA host of the past because he did the unexpected. He talked about everybody but he did it in a way that showed people they could laugh at themselves. That set a great tone for the VMAs. People come in as if they're perfect and we show them that they're not. We're here to have fun."
He continued, "You don't know what to expect. No one's off limits, I'm gonna show people they can poke fun at themselves."
I think this is a pretty clever idea and have to give Kevin a thumbs up on it. It's seems like such a simple fix that it actually may work, oh wait he already has a seatbelt by the name of Kim.
Photo Credit:whatsupism.com