Jay-Z And Pearl Jam Hit The Stage At Made In America Festival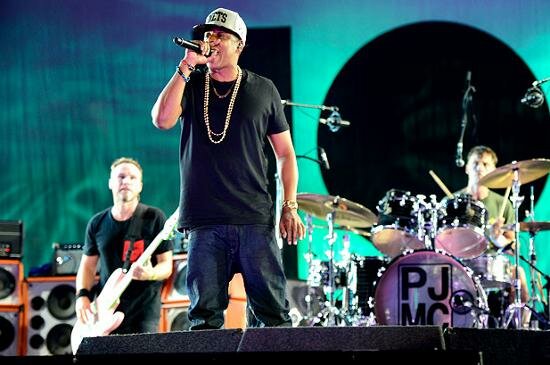 Jay-Z has helped make the Made In America Festival a hit, but the rapper made sure that he gave fans a very memorable performance.
Jay-Z and world known rock band Pearl Jam hit the stage together to give fans a collaboration that they never expected, as they performed a rocked-out rendition of "99 Problems."
It was the second night of the Made in America festival and Pearl Jam was marked as the headliner. But fans were in for a surprise as those who had missed Jay-Z the night before were able to see him perform alongside Pearl Jam.
It was almost the end of Pearl Jam's session when the instrumental for "99 Problems" began and out came Jay who left the crowd yelling as he performed "99 Problems," alongside Pearl Jam.
Maybach Music Group were also in attendance and rocked the crowd alongside Rick Ross. Other hip hop artists who were on the line up were Jay Electronica, Memphis Bleek. Run-DMC, Odd Future and Jill Scott.
Watch a video of the performance below, spotted at HHNM:

Photo credit:billboard.com