Rihanna Breaks Down With Oprah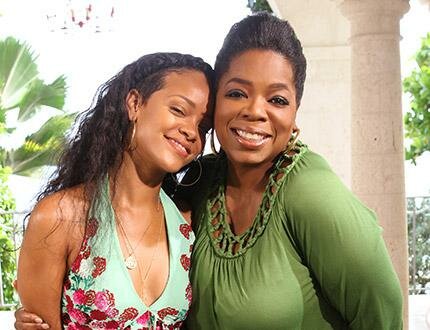 Rihanna has been all smiles lately while vacationing and once again flirting with her ex Chris Brown. But it seems that Oprah may have brought her back to reality as Rihanna got very emotional when recently discussing the abuse she experienced at the hands of Chris Brown.
Rihanna was a victim at the hand of Brown when she suffered injuries in February 2009 after Chris attacked her following Clive Davis' Grammy pre-party.
The hip hop singer got teary eyed during an interview with Oprah Winfrey.
"I lost my best friend… everything I knew switched-switched in a night," Rihanna cried to Oprah.
"It's not easy to interpret on camera, not with the world watching."
The Bajan beauty revealed she experienced conflicting emotions following the assault.
"[Oddly, I also felt] protective over him. Because as angry as I was-as angry and hurt and betrayed-I just felt like he made that mistake because he needed help," Rihanna explained.
"And who's going to help him? Nobody's going to say he needs help, everybody's going to say he's a monster, without looking at the source. And I was more concerned about him."
Rihanna has rekindled her romance with Chris recently. Both artists have been spotted out together and she is rumored to want the R&B singer to move into her Los Angeles home.
Rihanna's full interview with Oprah will air at 9 p.m. on Sunday. Which is a must see as many will notice the pain that Rihanna still holds after the break up with Chris Brown.
Photo Credit:oprah.com