Slaughterhouse Learns From The Best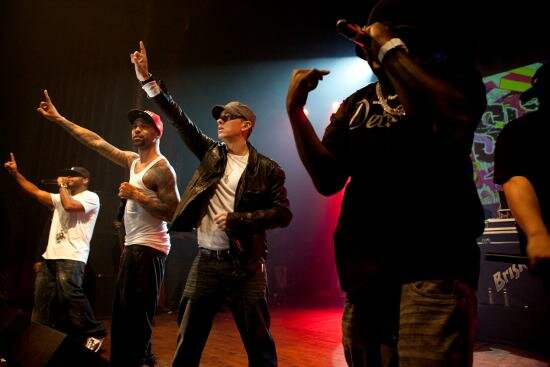 Slaughterhouse has been busy lately trying to finish up their album, but the member took some time to explain some of the things positive things they've picked up from working with Eminem.
Slaughterhouse made history when they signed with Eminem and his Shady Records label! They then became known as the Shady 2.0 powerhouse. Since their union it has come as no surprise that the emcees have learned plenty from each other.
"Marshall is the type that he never really stops recording," said Royce Da 5'9 of Em in an interview with MTV News.
"When you go in the studio, he's in the back room where the booth is, and the door is locked. Nobody's allowed back there."
"Nobody ever knows what he's doing," added Royce about Em. "All I know is that he's constantly working."
Joe Budden then brought his two cents to the table.
"I think all of us have been around long enough and are humble enough to know the appropriate time to be a sponge, and this entire process, all of us have done nothing but that, as well as sponging off each other," said Budden.
"So for me, it's been a learning process throughout the entire time, and I can say the same thing for these brothers because I hear it in their music as well. We're just blessed."
Crooked I agreed. "I just want to say I feel like these guys right here are some of the best rappers I've ever heard rapping, ever. I'm a student of Hip Hop — since Rakim, LL Cool J, KRS-One, I've been a student, and to hear these guys rap, to me, these are some of the best rappers I've ever heard in my life."
Check out the interview below:
Photo Credit:diversehiphop.com