Eminem Hits The Studio With Lady Gaga, What!?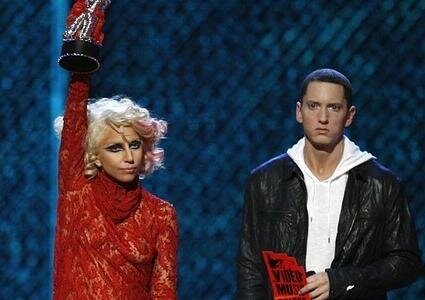 Fans were recently surprised when news of Lady Gaga and Kendrick Lamar hit the web, but fans will be left speechless once they learn who else she has hit the studio with.
Hip Hops most exciting lyricist, Eminem has revealed that he has already collaborated with Gaga and will be releasing the song on his new upcoming album.
Lady Gaga also posted a TwitPic of herself with new rapper Kendrick Lamar in the studio together. But I think people are actually shocked to learn that she will be featured in Eminem new song, titled 'Street Lights'.
Eminem spoke with MTV RapFix on the subject, "Yeah, I got this crazy record with Gaga and Kendrick for the upcoming LP. Its called 'Street Lights', and its just a real upbeat record."
The song will actually be on  Em's next album, rather than the ARTPOP album Lady Gaga announced a couple of days back. The single will be released "after Slaughterhouse's album", who is part of Shady 2.0.
funny thing about this whole ordeal is that Eminem once called Gaga "a male lady" on  one of his old tracks "A Kiss" from his collaboration with Royce Da 5'9′ as Bad Meets Evil. I must be the first to admit I never saw this one coming!
Photo Credit:ukeboxdc.com