Insane Clown Posse To Appear In Documentary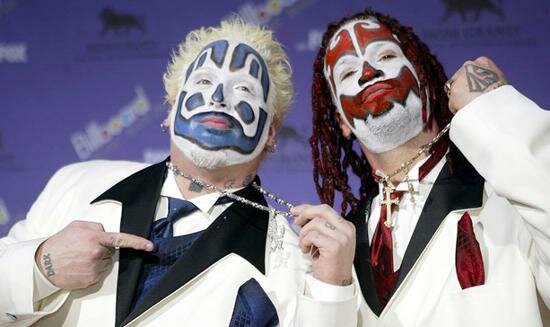 Insane Clown Posse (ICP) has been confirmed to take part in the upcoming documentary film, "The Untold Story of Detroit Hip-Hop."
Allhiphop.com reports that ICP is the attest of the long list of artists that will take part in the documentary. "The Untold Story of Detroit Hip-Hop" is being directed by Detroit native Brian "Champtown" Harmon.
ICP, is currently hosting the 13th annual Gathering of the Juggalos this weekend. The documentary will include some old school battles like that of Eminem and ICP, who may I add never worked their differences out.
"I don't want to give too much of the movie away but I will say this. It was Great having ICP be apart of the Untold story," Champtown told AllHipHop.com. "Say what you want about the 'Wicket Clowns,' but they have had over a 20 year run and are still running the ball. In the music industry, that is very impressive."
The documentary will be narrated by Chuck D. and features a number of influential Detroit artists. Artists like Esham, Proof, Ham, The Blackman, Awesome Dre, Dice, 5Ela, Billy T, Druken Master, Detroit's Most Wanted, BMX, Fed Ex, DJ Los, Merciless, Amir, DJ Head, TJ, Maureen "Ma Dukes Yancey (J. Dilla's Mom) and others.
All in all this documentary should have a substantial amount of information on some heavyweight rap artist and should be very entertaining as well.
Check out the Trailer below:
Photo Credit:artinfo.com