Pitbull Gives Alaska A Surprise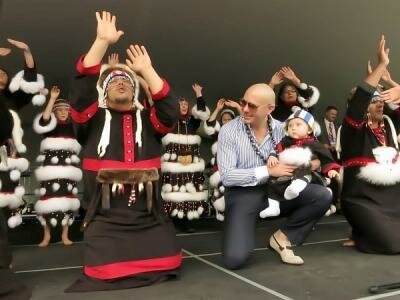 Pitbull is a world-wide superstar that has pretty much been all around the world, as a matter fact he has even gone to a place where no other hip hop artist has gone before!
Pitbull has been dubbed "Mr. Worldwide" and rightfully so as the artist is loved by many fans around the world as he continues to make international hits. And just to prove that he is donw for all of his fans he made good on a recent promise he made.
The people of Kodiak Island, Alaska have come together for a very special occasion as they all had Pibull on their minds as the Miami rapper paid a visit to the south Alaska island.
There had been a contest on Facebook that promised to deliver Pitbull to the town that generated the greatest number of Facebook 'likes'. And the winner was none other than Kodiak Island, Alaska who won with around 70,000 likes.
The crazy thing about this is that it all started as a prank and to top that off the town has a population of about 6,000.
"I heard that Kodiak, Alaska, has the most likes due to someone who thinks he was playing a prank," he said.
"I said, 'Okay, great, this sounds really good.' You have to understand I will go anywhere in the world for my fans."
Kodiak Island is 225 southwest of Anchorage. It is known for its Kodiak brown bear population. Pit made good on his promise visited his fans and even posted a pic of himself a Kodiak bear on his Facebook page.
How's that for a one of a kind story!
Photo Credit:idolator.com