50 Cent Moves On To His Next Hustle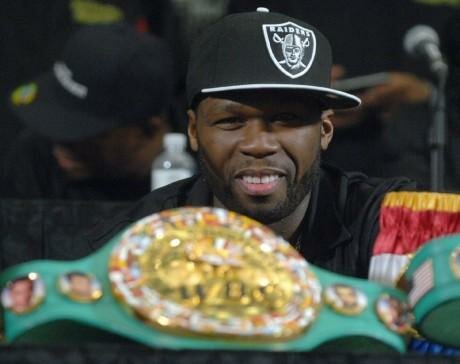 50 Cent has long been a hustler in anything and everything! Now the hip hop heavyweight has announced his latest business venture, as he enters the world of boxing promotion.
50 Cent and championship boxer Floyd Mayweather have had a very long friendship  and it seems that Floyd has inspired Fiff to invest some money into the sport.
50 loves the limelight as he has regularly attended Mayweather's fights, strutting to the ring alongside the champ several times. Now news has broken out that 50 loves the sport so much that has now taken the first steps to begin his own boxing promoting business, founding TMT Promotion, with the TMT standing for The Money Team.
The SK owner has already made the first major moves as he has TMT licensed in New York, and is in the process of applying for a license in Nevada.
Also reports are that 50 will be working with Mayweather, and as an added bonus he is expected to sign former featherweight title holder Yuri Gamboa and super middleweight contender Andre Dirrell.
Photo Credit:killerhiphop.com