50 Cent Explains His Mixtape "50 Cent Is The Future"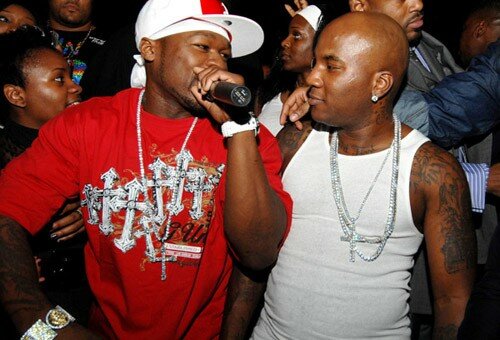 50 Cent explains how a bootlegger got him  inspired to make his "50 Cent Is The Future" mixtape.
The Queens rapper, 50 Cent, released his mixtape "50 Cent is the Future" ten years ago which revolutionized the hiphop industry. Nowadays, mixtapes have become an institution for hiphop artists.
In an interview with XXL, 50 said explained that this idea came from an encounter with a bootlegger. The bootlegger was selling a fake 50 Cent album outside the management's office. He said that only a few people believed that the project will make a big hit while others did not think he'd make it.
50 Cent stated, "I was across the street from Violator Records, and Violator management's Chris Lighty wasn't sure if he wanted to manage me at that point – there was a lot of luggage that came with me. I was on my way back from my second actual visit with him…across the street from there was a bootlegger, he was selling CDs and shit, so I said to him, 'What's up? What you got?' And he was like, 'I've got something new, it's new 50 Cent.' And I was tripping because I thought he was being funny at first, and I realized, oh shit, he don't know that I'm 50 Cent because the only picture I had was from the cover of Power of the Dollar…so I was like, I'ma make my own tape."
He continued by saying, "When we finished the tape, Whoo Kid didn't want to sell it, he didn't want to put it out because it wasn't what a mix tape was at that time. He was like, 'What the fuck would I wanna do that for? Who's gonna want that?' I had to pay him to press the tape up…but after 50 Cent is the Future popped off, the whole game changed for me…before tat, I had been on the circuit so heavy because you had to do something for every DJ's mixtape. I've recorded in Kay Slay's closet…the turntables [would be] right there, you'd rap and you're on the tape."
Photo Source:hiphop-n-more.com