Tall T Murdered At Age 23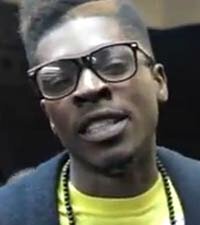 Rapper Tall T was shot in broad daylight in Stockton, California.
Tyrone "Tall T" Franklin was murdered by a shot wound on Tuesday in broad daylight while sitting on a park bench.
According to the News 10 station, the 23 year old rapper was with his girlfriend at the Long Park in Stockton, California for their date before he went back to the studio. His girlfriend explained that the rapper was approached by the assailant and tapped on the shoulder before he was shot. When he turned around, the suspect shot Tyrone, which killed him and the shooter made a run away before the cops were able to make it to the scene. Tall T was transported to a near by hospital, but once he had arrived he was announced dead. The police have no suspect or motive for the murder as of now. They'll be questioning witnesses to see, if they saw anything suspicious around the time of the incident.
Tall T was planning to release a new album this summer for his fans and his friends explained to the station that they are planning to make sure that the LP is completed and released for the rapper's last request.
Everyone here in hiphopRX send their condolences to Tall T's family during this difficult time and we hope that the suspect gets caught.
Photo Source:theboombox.com