Justin Bieber Was A Knock Out Or Rather Knocked Out!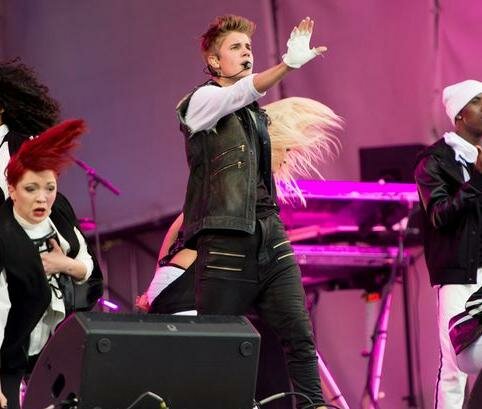 Justin Bieber's Oslo concert recently raised chaos as young fans went crazy when the singer showed up and to top it off Justin was knocked out by a glass window.
Report claim that 14 teenage girls had to be taken away for "emergency care" after hysteria over the pop star broke out at the Norwegian show yesterday and on top of that 49 other fans were injured.
Police were very close to declaring a state if emergency as hundreds of Bieber fans ran wild over the town, screaming excitedly for their idol.
Video footage of Oslo's centre shows hordes of teenage girls running across roads and dodging cars to follow a vehicle they believe contains the Boyfriend singer.
Justin pleaded with his fans through Tweeter so that he could help restore some order.
"Norway – please listen to the police. I dont want anyone getting hurt. I want everything to go to plan but your safety must come first…for the show to happen u must all listen to the police,' he wrote. "We are all concerned for your safety and i want what is best for u. please listen and tonight we will have some fun. love you and im excited to see you all (sic)."
But to make matters worse Justin was knocked out by a glass window during his performance. He reportedly sustained a mild concussion due to the incident.
It is said that After Justin sang onstage, the pop star walked backstage and slammed into the glass. But he did pick himself back up went back onstage to complete his show.
When Justin went backstage following the end of his performance, the star 'passed out cold for around 15 seconds.'
Doctors have diagnosed Justin with a minor concussion.
Photo Credit:mirror.com