Rihanna Not Timid With Weapons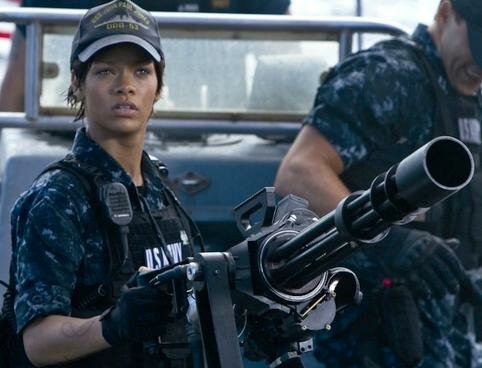 In a recent interview Rihanna revealed that she had previous experience with weapons before starring in Battleship.
The singer recently took on the role of Petty Officer (GM2) Cora Raikes in the Peter Berg-directed sci-fi action film 'Battleship'. Her character is a weaponry expert and she says everything in the film is a mirror of who she would be if she were not a famous singer.
"Yes, when I was 11 years old I joined cadets and right away we started working with weapons. But they were bigger weapons in the film!" she told OK! magazine.
She also said she would consider entering the military, she certainly can imagine herself as a soldier, but she is thankful that she got to a famous singer and performer.
"If I had to, I definitely would," she said. "I have so much respect for soldiers. They dedicate their lives to saving others, and a lot of the time they don't even get recognized for it, even when they come back.
"It takes a certain character with a certain discipline to be a soldier."
I would have never guessed that she had weapons training before becoming a hip hop sensation, just goes to show you how you can never judge a book by its cover.
Photo Credit:coventrytelegraph.net