Exclusive:50 Cent's Dream Machine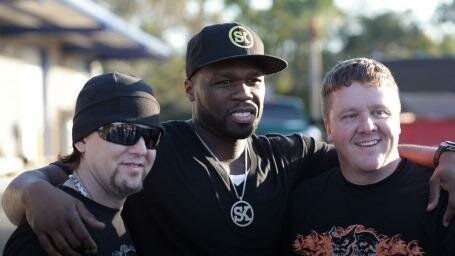 50 Cent recently took to the pro's to make his Dream Machine a reality.
The hip hop mogul has been busy with music, headphones, movies, energy drinks, and helping feed those who are less fortunate. But that does not mean that he does not have any time for some fun or that something special vehicle that he would like to his personal collection.
50 Cent will be on prime time television this Tuesday, but his part won't involve any acting nor performing, instead he will make his appearance as one of Dream Machines customers.
You know that every time 50 does something he goes big and he makes sure it's unique. 50 Cent lays out his ideas and then watches as they sketch up a vehicle that looks like a hybrid of an F-1 racer car and a fighter jet. Then it's up to the crew of Dream Machines to make sure it materializes into a working vehicle.
Brothers Marc and Shanon Parker have dreamed up some of the world's most impossible vehicles inspired by movies, science-fiction and comic books and turned them into on-the-road realities.  In the premiere episode, the Parker Brothers build a dream machine specially designed for rapper, 50 Cent.
Dream Machines premiers this Tuesday, April 10th at 10/9c on Syfy.