Flo Rida And MGK Perform At Wrestlemania 28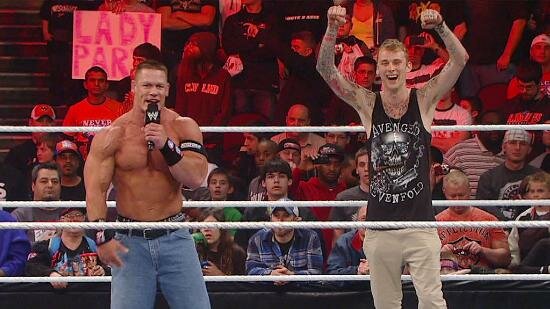 Rap Stars Flo Rida and Machine Gun Kelly made a huge appearance during WWE's Wrestlemania 28 event in Miami, Florida.
Flo Rida was implemented into the PPV's storyline and on top of that he was the featured performer at 10:00 PM.
His songs "Wild Ones" and "Good Feeling" were also the official themes for Wrestlemania 28.
Flo's track "Wild Ones" was The Rock's theme song, while his opponent, John Cena, walked in to Machine Gun Kelly's track "Invincible" for the main match.
Machine Gun Kelly hit the "Grandest Stage of Them All" for a performance, which saw him introduced by music mogul Sean "Diddy" Combs.
"This is about to be the biggest 1 minute and 30 seconds of my career so far," MGK tweeted before he performed. "I'm thinking of all you guys right now. Be proud. Lace Up!"
Wrestlemania 28 set a new attendance record at the Sun Life Stadium in Miami, where over 78,373 fans showed up to witness The Rock defeat John Cena.
To sum it all up, if you did miss the show then you missed history in the making!
Photo Credit:WWE.com