50 Cent And Joan Rivers Aim To Make A Change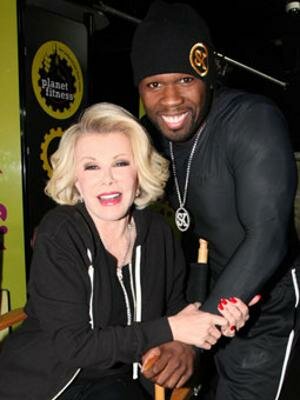 Hip hop sensation turned mogul, 50 Cent has recruited a very unlikely partner in his fight against global hunger.
50 recently released the news that he has teamed with Joan Rivers for his Street King energy shot campaign. Rivers is appearing in an ad with the G-Unit leader as the duo are now working out together at a Planet Fitness
"I tried to put together the odd team, not the A-team," said.
"It has a lot of different layers to it for something that has to happen in 30 seconds."
"The premise of the commercial is I have no energy, I drink the drink, and I'm ready for fun," explained Rivers.
Rivers even jokingly dubbed herself '34 Cent.'
All and all I have to credit 50 Cent as being one of the most smartest artists turned businessman who is now giving back to those who are in dire need of help.
Photo Credit:mediagallery.usatoday.com