Exclusive SLAP FROZEN Energy: Show Us Your Best Freezer Burn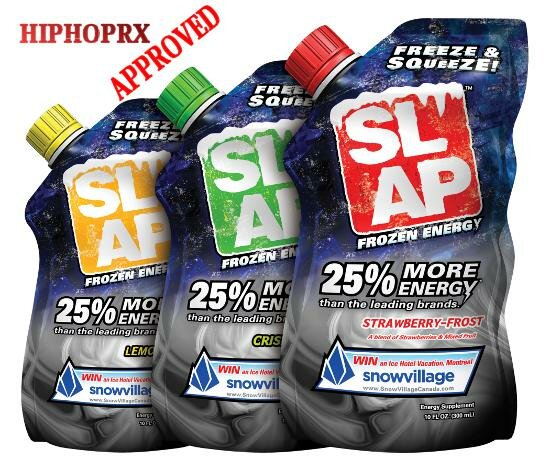 Well we all know that by now the energy drink market has gotten a bit dull and very competitive. Some give you a bad crash other taste horrible and some seem more like a task to take rather than a fun supplement for energy.
But with time comes evolution and today we are bringing you an exclusive sneak peek into a new energy source that will take away the boring from energy drinks and put the fun and energy back in your life!
This new product already has plenty of people waiting its big release; including Dj's, hip-hop artists, athletes, and everyone who is pulling that part time job with a full college schedule, weekend parties and still needs that extra energy to study for exams!
May I introduce SLAP FROZEN Energy!
SLAP FROZEN Energy is a new, one-of-a-kind frozen energy drink that has defined the standard of beverage innovation. The first and only non-alcoholic RTD beverage in a pouch, SLAP FROZEN Energy is available in Crisp Apple, Strawberry-Frost and Lemonade flavors.
The FROZEN formulation is a blend of ingredients that prevents the drink from fully freezing and allows for a maintained slushy consistency, with the consumer simply needing to Freeze It,Squeeze It, and Get SLAP'd! For further information, please visit www.SlapFrozen.com, follow SLAP Frozen on Facebook at Slap Energy or on Twitter at @SlapEnergy.
As the first-ever frozen energy beverage, SLAP FROZEN Energy will fill a void in the already thriving energy drink market by providing consumers delicious taste, a refreshing cool-down, and an invigorating "SLAP" of energy. Each pouch of the frozen slush drink contains 25% more energy than the leading brands and is infused with taurine, caffeine, and Vitamins B3, B6, and B12.
"SLAP FROZEN Energy takes the energy drink category to the next level," said Larry Trachtenbroit, Founder and Chief Energy Officer of SLAP. "We are introducing something that's bigger than just a flavor change or a new package; SLAP FROZEN Energy offers a really cool – no pun intended – consumer experience that is supported by both great taste and innovative packaging."
Packaged in a smartly designed pouch with a re-sealable cap, SLAP FROZEN Energy comes in three flavors: Crisp Apple, Strawberry-Frost and Lemonade.
To help get the launch of this game changing Energy drink, SLAP FROZEN Energy is tasking consumers to participate in an epic April Fool's Day "FREEZER BURN," where participants are encouraged to freeze something of their friend's / family member's (e.g. keys, underwear, etc.) on or before April Fool's Day, take a picture and / or video of it, and upload it to the Slap Energy Facebook http://www.facebook.com/SlapEnergy (Make Sure you post your picture on Slap Energy's Wall so that they may judge it).
The person with the best / most original prank will win an all-inclusive stay at Snow Village Canada, a chilling attraction with heated igloos, an ice restaurant and bar, snowshoeing, dog sledding, you name it!
The FREEZER BURN is open from March 15th until EOD April 2nd (limiting it just to April Fool's Day).
So go ahead show us your best Freezer Burn!