Exclusive Interview:R-Mean The Next Big Thing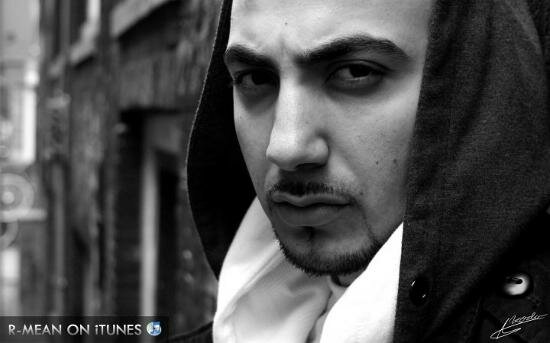 Editor's Note: I'm excited to bring you an exclusive interview with R-Mean — one of hottest rising stars in hip-hop today. R-Mean has appeared on MTV Rap fix with Mobb Deep and on the world famous Wake Up Show on Power 106 live for a freestyle session. Power 106 has also featured R-Mean on radio drops for DJ Felli Fel, Tha Goodfellas and Tito, Friday Night Flavas in rotation since September 2005. 
HipHopRX Intro to R-Mean
Born "Armin Hariri" from California R-Mean has been the talk of hip hop lately through his smooth flow and  puzzling lyrics.

During his pre teen years he was an aspiring athlete out competing his peers in basketball. Always pushing himself to the limits, he paid no attention to the knee pain that was threatening to cripple him. His competitive spirit almost led him to participate in the Pre-Professional Dutch National Team at the age of 15. However, due to chronic pain of undiagnosed origin he was forced to quit the game forever and to this day his knee braces remain to remind him of his dream cut short. Now R-Mean has turned his complete attention to music and acquiring the number one spot has turned into the driving motivation that keeps him making music day in and day out.
R-Mean has been working overtime in the studio and  recently recorded a song with The Game (Seven Deadly Sins Album-Marc ) which promises to be just a small sample of whats to come for the Armenian rapper.
R-Mean – The Interview:
HipHopRX: For fans who arent' familiar with you yet, please let them know who is R-Mean and what do you represent in the music scene?
I speak the bottom of my heart from the top of my lungs. I represent the voice of the voiceless. I intend to heal people through music. I'm a lyricist that makes music with substance and I live, breathe, eat and shit Hip Hop. They call me R-Mean. Nice to meet yall!
HipHopRX: Why did you choose music as your career?
People can only be great at things when it comes from passion. Music is my pain and my passion. For as long as I can remember music and specially Hip Hop has been so important in my life it was only right for me to become a part of it myself. I could follow the norm or I could follow my heart. I simply chose the latter.
HipHopRX: What was the first venue that you performed in like? How many of your fans were in attendance?
I think my first performances were in high school. They weren't necessarily fans yet, but there were always at least a few hundred people in attendance. That's where I realized performing came natural to me and I felt so comfortable on that stage. As far as my own real shows, I started hitting colleges and open mic nights. At first there were only a handful of people I could call "fans" but soon it started to grow.
HipHopRX: What are your main goals for the year 2012?
The main goal is to really become a recognizable name in the industry as one of the "next ones". One of the new kids that's about to take the game by storm. I've already had a great start of the year so God willing we gon continue to grow and reach our goals.
HipHopRX: How did you come up with the name R-Mean?
My real name is Armin. When I was like 14 or so I just started spelling it like R-Mean just cuz I thought is was cool lol. It was before I rapped or anything but when I started rapping I just kept that as my name and it just stuck with me ever since.
HipHopRX: Where did you record you first track?
My first real track was recorded at my man Blind's house. I had just been flowing for maybe a year and he had just started making beats. He heard about me around the neighborhood and I had heard about him mainly cuz of his street rep. He got shot and lost his eye sight and now he turned to making music under the moniker "Blind". He had this little amateur ass set up at his crib… and even though the sound quality was very bad we used to be up in there for hours putting in work. To us it was great.
HipHopRX: How long would you say it takes you to write one of your tracks?
Sometimes I'm quick and write something in 30-40 minutes. Hooks come easy and natural most of the time and once I got that I can knock out the verses. But then again I like to take my time when I can, so sometimes I'll be spending multiple hours on a song. I'm definitely a perfectionist so I don't mind spending time on my art till I feel it's perfect.
HipHopRX: What has been your biggest accomplishment?
Just being one of the main guys or maybe even THE main guy of my background to do this Hip Hop shit and be able to get so much recognition from my people is definitely a great accomplishment to me. Before I dropped, both Armenians and non-Armenians didn't believe Armenians can rap, but when I came out I was able to finally change their minds.
To be able to still move more than 10k units in this era independently is definitely an accomplishment. And then of course the fact that I've opened for people like Nas and Bone thugs. Being able to go on the Wake Up Show and Sway In The Morning and impress the shit out of Sway and King Tech.
Selling out concerts of 7-800 people in my hometown and my recent collaborations with big artists like The Game are all big accomplishments.  But overall, I'm proud to say that I was able to graduate from college while doing all this and that I've been able to stay true to myself and my music since day one. That's the biggest accomplishment.
HipHopRX: Out of all your collaborations, which one is the one you enjoyed the most and why?
The biggest artist I have collaborated with so far  is Game and the track came out so bananas that it's gonna be the first single off my next album called "7 Deadly Sins". The track is called "Lost Angles" so definitely be on the lookout for that. The vibe in the studio was great and magic just happened, so it was a great experience. Shout out to Game. Here is a pic of us in the studio together -
HipHopRX: Who is the one artist that you want to collaborate with right now?
My 2 dream collabs are Eminem and Dj Premier. And I'd love to collab with Joe Budden, Kendrick Lamar, and JCole.
HipHopRX: How was it that you came about being featured on the drop for Sway on Shade 45? (By the way we were able to catch your freestyle; you got it tight with the wordplay!)
Thank you, appreciate that. Well, Sway's right hand man King Tech was still running the legendary Wake Up Show here in LA on Power 106, which is the biggest Hip Hop station here. After Tech heard my music he invited me on the show. (you can see that freestyle right here.
Both him and Sway were so impressed with what I did on the show that they asked me to do drops for Sway's morning show on Shade45 and then invited me to New York to be on it as well. That was definitely a great moment for me. Check that footage right here.
HipHopRX: Would you say that you are a lyricist first and a performer second or vice versa?
If I had to choose I would def say lyricist first. I always been a writer. Always been into poetry and wordplay. I love the stage, but I love writing, being in the studio and creating more than anything.
HipHopRX: Where do you see yourself two years from now?
God willing as a very recognizable name in the Hip Hop game.
HipHopRX: Who's the best lyricist in the game right now in your opinion?
I think Kendrick Lamar is up there for sure. Not only is he a great lyricist but he has such a unique style of music overall. J.Cole def been bringin it from the start with the lyricism and storytelling. And all 4 of the Slaughterhouse cats are amazing on the mic. The way Crooked I slays verse after verse after all these years ain't no joke. Respect.
HipHopRX: What has been the hardest point in your life and what would you do differently in your life?
Going through a group breakup was definitely one of them. When my crew broke up a couple of years back, it was a wake up call for me. After years of hard work everyone in the crew gave up on the ultimate dream and I was left alone to wonder if I should even continue.
A group breaking up is like a family going through divorce and it takes a huge toll on everyone.But my manager Alex Kodo and I fought through the adversity and rebuild our brand and label form bottom up, we kept fighting through it and focused on the positives instead of the negatives. The movement is now stronger than ever.  As far as what I would do differently is that I will make better judgements in who I work with and how I work with them. At the end of the day its all Biz.
HipHopRX: What's the motivation that keeps you going day in and day out?
At the end of the day it's the love for the music itself. This business can get very frustrating at times, but I love this music so much I can't see life without it. And when I see the love I'm getting and the type of fan mail that I get, I know I'm making a difference and that's a big motivator to keep pushing.
I don't think a lotta unsigned artists got fans sending them pictures of tattoos with their name or lyrics on their bodies. Letters that describe how my music has helped people through the hardest times of their lives. Even if it's helping one person, it's worth all the hard work. I'm humbled by that and so I keep going.
HipHopRX: Are you happy with your career or is there another career you would like to pursue?
I definitely can't see myself doing anything else, so that's out of the question. I'm happy with the fact that I've been blessed with the opportunity to do what I love. And I'm real happy with the people around me and my team that works hard for me every single day (shout to Alex Kodo!).  I'm not happy nor nowhere near satisfied with where I'm at in my career, but we gon' keep risin till we get there.
HipHopRX: To this day which would you say is your most meaningful track?
Its got to be Vice Versa on a DJ Premier beat…you judge for yourself…
HipHopRX: Would you say that your music and sound are similar to any other artist that is major right now? If so, who would that be?
I can be corny right now like everybody else and say that my music is one of a kind and doesn't sound like nobody else but that's always a lie. Art imitates life, and we always take pieces of our biggest influences and then make it our own. And my biggest influences have been Nas and Eminem. Not to compare myself to legends, but you catch my drift.
HipHopRX: What do you hope to accomplish with your music?
Kill wack emcees and the skinny jeans movement lol. Just playin, but like I said earlier, I hope to touch people's lives and give them hope. I graduated from pharmacy school but to me music is the best medicine and I'm tryna heal people.
HipHopRX: When it comes to hip hop beef, are you for it or against it?
I'm definitely not about beef. I'm all about peace and uniting. But Hip Hop battles and beef are essential to the competitive nature of Hip Hop. It tests emcees and makes for great entertainment. Part of the reason why Hip Hop is so soft now is cuz no one beefs anymore. Or maybe I should say nobody cares about the beefs anymore.
But that's one of the reasons that nowadays you don't have to be able to rap well to become a rap superstar. Cuz your actual rapping skills are never tested. What kinda shit is that?   Unfortunately we can never just keep it to wax anymore and that's sad but I'm definitely not against it as far as the art form of battling. I actually wish a famous rapper would diss me for no reason lol.
HipHopRX: What new projects are you currently working on?
I got a lotta things going on for this year but I'm mainly working on my new album called "7 Deadly Sins". The first single with Game called "Lost Angles" is already done and should drop soon. Be on the lookout!
HipHopRX: What can we expect from R-Mean in the near future?
I just told you! "7 Deadly Sins" baby!
New to HipHopRX? We bring you the latest Hip-Hop news–Free in your mailbox every morning. Click here to subscribe for your daily dose of Hip Hop!