The Evolution Of 50 Cent: Street King And 50 Cent Mission To Stop Hunger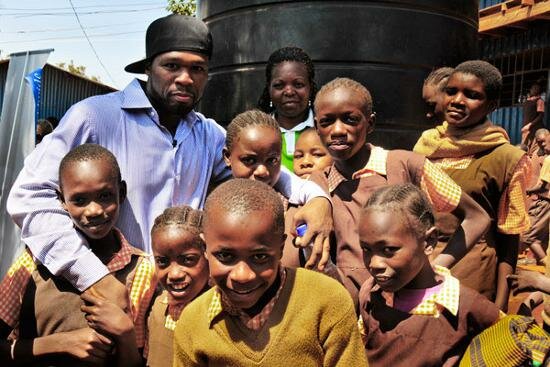 50 Cent proves that one person can make a change in the world.
We've all come to know 50 Cent as a hardcore gangster/hip-hop artist/movie star/ businessman, but now we have come to discover 50 Cent the humanitarian.
50 Cent took a  recent trip to Somalia on behalf of the United Nations World Food Program and Street King, his now famous energy drink, of which 10 cents from each purchase goes towards feeding the hungry.
While in Somalia 50 Cent was able to experience first-hand the food shortage and suffering the people go through on a daily basis. As a matter of fact after seeing the footage myself I can truly see how much of an impact the entire scene made on 50 Cent. You could tell it really hit home and that 50 Cent is dedicated to his cause.
There comes a time when a man has achieved most if not all of what he has set out to do with his life. From there on forth he can either choose to squander his fortune or use it, along with his time to help others who are not provided with the same opportunities we are. As a matter of fact the only worry they may have is where there next meal come from.
You can see the burning desire in 50 Cent's eyes as he tries to understand how others can live on a day to day basis throwing money like nothing unnecessary things while small children live malnourished with very little hope of a better life. And even though his new image goes against the image that made him famous, he isn't worried about it; he isn't worried about how his fans will accept it either.
What does worry him is giving hope to the kids who go to sleep with only one portion of a meal in their stomach or those who may not even get to eat on a certain day because there was no food available. What does worry him is being a human being and helping those that need him the most and making a difference in the world one person at a time , one meal at a time!
I commend 50 Cent for evolving into the person he has become and taking initiative into trying to make the world better, starting by helping those who are less fortunate.
Footage is now available of the Queens emcee's trip, courtesy of ABC News.
"I want to be more. Not just as an artist, but as a person," revealed 50 to ABC News reporter Dan Harris. "My legacy, what's left behind."
"I don't want to be a guy who's just remembered for writing a few cool songs."
The multiplatinum star also discussed what impact his charity work would have on his image in Hip Hop. "It doesn't match," he admitted. "I don't care if my audience is prepared to move forward with me. They may not necessarily be growing at the same pace."
Thanks 50, for leading by example and taking the road others would have likely chosen to avoid.
Photo credit:un.org