President Obama Steals The Show From Mick Jagger and B.B. King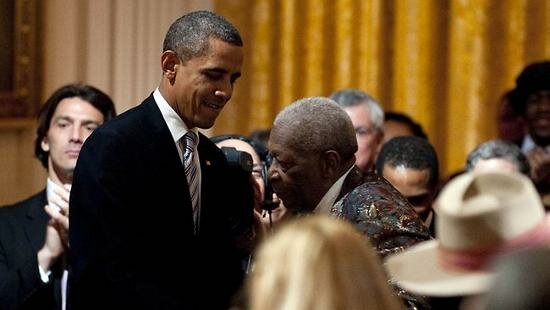 President Obama had a personal re-enactment of the Rolling Stones 'Get Yer Yas Yas' 1969 Madison Square Garden bill last night when Mick Jagger and B.B. King performed at The White House.
The East Room at The White House was turned into a blues club with Jagger and King performing along with Keb Mo, Jeff Beck and Buddy Guy.
Sir Mick treated the President and Mrs. Obama to 'I Can't Turn You Loose, 'Commit A Crime' and then 'Miss You'.
Jeff Beck joined Jagger for 'Commit A Crime'. Shemekia Copeland and Susan Tedeschi jumped in for 'Miss You'. Before Jagger, B.B. King performed 'Let The Good Times Roll', 'The Thrill Is Gone', 'St James Infirmary' and 'Let Me Love You'.
The night ended with an all-star jam of 'Sweet Home Chicago' with President Obama joining the band.
Trombone Shorty, Gary Clark Jr, Warren Hayes and Derek Trucks also performed on the night.
The Obama's put the show on as part of the 'In Performance At The White House' series, to air on PBS. The show will recognize Black History Month.
Photo Credit:theaustralian.com