Machine Makes The Cover Of Inked Magazine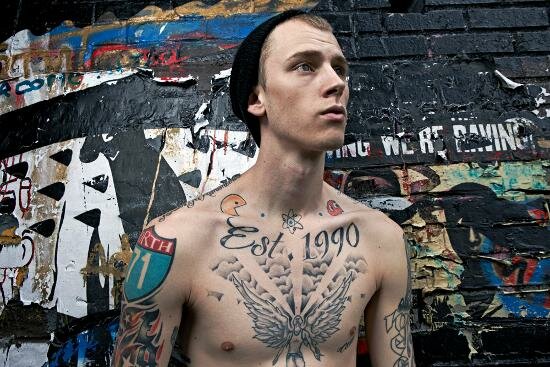 MGK covers Inked's latest issue and gave insight on the first ink artwork he ever got at the age of 16.
Over the past year and a half, Ohio rapper, Machine Gun Kelly has been making a splash in the world of Hip Hop. Most notably after signing a deal with Diddy's Bad Boy label. Now, MGK gets his latest honor covering the upcoming issue of Inked Magazine.
In the same issue of the tattoo-theme mag, MGK opens up about his ink and the first tattoo he ever got. He explained that when he was younger, his dad gave him the option of getting either a tattoo or a car for his 16th birthday. A car is any teenagers dream however, he choose to get his forearm inked up just to anger his father.
"When I was little, my dad said, 'Son, you have a choice on your 16th birthday—to either get a car or a tattoo,'" he said. "I knew he was testing me, so I said tattoo to piss him off…I told [the artist] I wanted it on my forearm. They said that if they put it on my forearm it would be tough for me to get a job. I told them I would be a famous rapper someday, so I won't need a job."
A couple years later and MGK's wish has become a reality.
Check out the full interview over at Inked to read about MGK's turbulent family life and high school life
Photo Credit:marclecureuil.com