Bobby Brown Struggles With Whitney's Death While Celebrities Tweet Their Condolences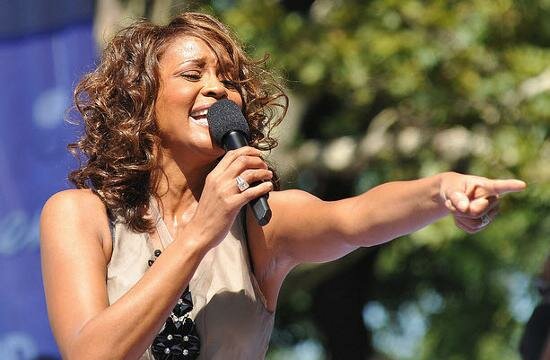 Whitney Houston ex-husband Bobby Brown is said to be 'struggling' following the news that the iconic singer has died.
Whitney was found unresponsive in a hotel room at the Beverly Hilton hotel in Los Angeles on Saturday afternoon.
A spokesperson from the Beverly Hills Police department confirmed that they received a 911 call at 3.43pm. They got to the scene two minutes later and the fire brigade where already there due to an event happening at the hotel.
Hotel staff were already performing CPR on Whitney but the 48-year-old was pronounced dead at 3.55pm local time.
A CNN reporter spoke to singer Johnny Gill who is in Memphis with Bobby as their group New Edition is currently on a tour.
'Bobby is struggling and he's devastated,' Johnny told the news channel.
He said that Bobby had spoken to his 18-year-old daughter with Whitney, Bobbi Kristina, and that she was 'not doing well.'
Bobby and Whitney divorced in 2007 after 15 years of marriage.
Authorities have not yet confirmed the cause of death and will launch an investigation. But police have said there was no obvious sign of foul play on initial inspection.
Celebrities have taken to Twitter in their droves to voice their shock and sadness at the passing of one of America's greatest talents.
'Heartbroken and in tears over the shocking death of my friend, the incomparable Ms. Whitney Houston,' Mariah Carey wrote. 'She will never be forgotten as one of the greatest voices to ever grace the earth.'
'No words! Just tears,' Rihanna wrote.
'Feels so strange being at the Grammy rehearsal right now!'
'So devastating. We will always love you Whitney, R.I.P,' Katy Perry posted.
'Just heard the news. So crazy,' Justin Bieber tweeted.
'One of the GREATEST VOICES EVER just passed. RIP Whitney Houston. My prayers go out to her friends and family I am sadden to hear of the passing of Whitney Houston today.' (sic)
Although Whitney's troubled marriage to Bobby Brown and her well-publicized battle with drugs had somewhat taken over what she had achieved, there was no denying what an incredible voice she had and the impact she had in the music industry.
Photo credit:sierratierra.com