Super Bowl 2012: Giants Claim Victory Over Patriots 21-17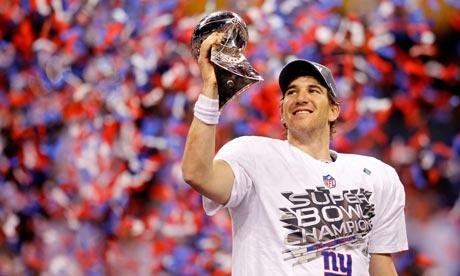 After a hard-fought battle very similar to their clash at Super Bowl XLIII four years ago, the Giants narrowly defeated the Patriots by a score of 21-17 at Super Bowl XLVI last night (Sun., Feb. 5, 2012) at Lucas Oil Stadium in Indianapolis, Indiana, to become world champions once again.
The game was everything you would expect, well except if you are a Tom Brady fan. The Giants played solid, at times spectacular, football while getting every bounce to go their way.
Today was a day where it is better to be lucky than good, but the Giants proved to be both.
Ahmad Bradshaw fumbled but had it bounce straight to one of his teammates. Hakeem Nicks fumbled as well but the Patriots were flagged for too many men on the field. Chase Blackburn, a mostly clumsy linebacker was able to beat out Rob Gronkowski downfield on a deep ball thanks to an underthrow from Tom Brady.
On the other hand Eli Manning went from being good quarterback in his brother Peyton's shadow to a future Hall of Famer and multiple time Super Bowl champion. He also won his second Super Bowl MVP award thanks to a near flawless performance. He was 30/40 for 296 yards and a touchdown on the night. His clutch throw to Mario Manningham down the sideline on the final Giants drive of the game to clinch it will become the throw of a legend.
It was an amazing game between two talented teams that will go down as one of the better Super Bowl games. But in the end their can only be one and the Giants proved to be the best on Super Bowl night.
Photo Credit:guardian.co.