M.I.A. Causes Controversy During Super Bowl Half Time Performance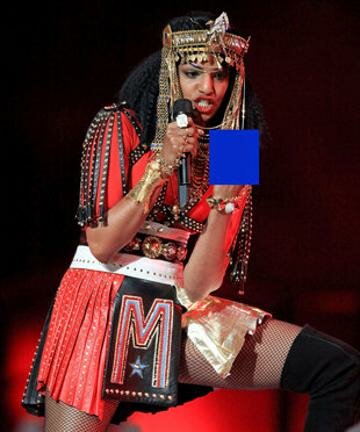 Everyone was expecting bad girl Madonna to do something a bit provocative and possibly on the questionable side during her Super Bowl halftime show.  However, she was the good girl on that special occasion, but the same cannot be said for M.I.A
M.I.A. appeared to offer the tens of millions of viewers the wrong upraised finger–i.e., the middle one–instead of the gunshot motion that she does to accompany the bleeped-out "I don't give a s***" line in their new video "Give Me All Your Luvin'."
"We apologize for the inappropriate gesture that aired during halftime," NBC Sports said in a statement.
"It was a spontaneous gesture that our delay system caught late."
This has been the first controversy since the Super Bowl "incident" featuring Janet Jackson and Justin Timberlake and a wardrobe malfunction in 2004.
Madonna had nothing outrageous to offer herself, instead she gave the crowd a  guest star packed 15-minute show. With LMFAO, Nicki Minaj, M.I.A., and finally Cee Lo Green joining her on the 50-yard line. All in all the halftime show was a success and it had its entertaining moment!
I Wonder if M.I.A. well lose a couple of opportunities after plling this stunt?
Photo Credit:usatoday.com