Cash Money Records Sued After Alleged Assault On Woman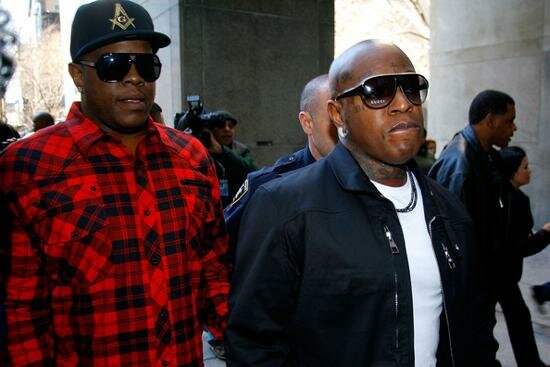 It seems that Birdman's and Slim's legal troubles are taking a turn for the worst after a College Park woman filed sexual charges against Cash Money.
Nicole Westmoreland claims she was supposed to be given an opportunity to make a business presentation, but instead she says she was "exposed to illegal drugs and explicit sexual activity" before the act took place.
"I was followed into the bathroom, forced inside and I was raped," Westmoreland said.
She identified Alfred Cleveland as the man who committed the assault. He told authorities when they took him into custody that he worked for Cash Money Records. Now she is suing the actual company for damages incurred.
The criminal case has already been handled through a negotiated plea. Cleveland got jail time.
There are no allegations that Williams was involved in the assault.
"I was invited by members of Cash Money for a presentation. I was hesistant at first to go to the studio, but I was assured that i was safe," she said.
Once inside, Westmoreland says instead of seeing a business client, she saw something much different.
"There was drug usage and sexual activity going on," she said.
Feeling uncomfortable, Westmoreland says she retreated to the ladies bathroom to weigh her next move. That's when she says Cleveland took advantage and followed her in.
"As a result of trusting these individuals, she experience the most traumatic event a woman could go through," Hodges said. "Certainly there should be some liability on the part of those who invited her on the premises."
Cash Money Records has retained Clarkesville lawyer James Cox to handle the civil complaint.
"An employer is not liable for the criminal acts of an employee, unless they should have foreseen those acts were going to occur," Cox said.
Cox claims Westmoreland's account of what happened that evening is full of holes. He says he will tell jurors that Williams does not recall any kind of business conversation with Westmoreland. He said she went to the studio late at night to hang out, and brought female friends along.
Cash Money says the notion that the young lady was lured to the leased studio to be attacked is ridiculous, and Cox says Cash Money absolutely did not allow its lobby to be filled with people doing drugs and having open sex.
Lawsuit Against Cash Money Records Alleges Liability in Sexual Assault: MyFoxATLANTA.com
Photo Credit:zimbio.com/
Credit to "FUTURISTIC BLOGGER" For The Tip.