50 Cent Wins $500K On NFL Game And Raises The Stakes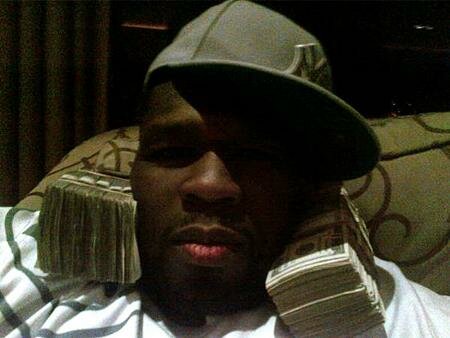 50 Cent isn't a stranger to sports betting and this past Sunday he was able to lock down a cool $500K after the Giants beat the 49ers in the NFC championship.
However, we learned that after his victory he decided to raise the stakes a bit after he issued a bet with a young woman. If the Giants lose, he'll post a picture of his magic stick Twitter. But if he wins the young lady must post a pic of her chest along with her face on twitter!
Here's how it all developed play by play!
50 Cent Tweets throughout the game:
–Man the GIANTS better win today. NEW YORK stand up

–GIANTS see you sucker next half NEW YORK, NEW YORK

–Look I understand how U 49ers fans feel. Get up get a drink do what ever U have to do to feel better for the moment. Its half time relax lol

–Over time damn this is nerve wrecking lol let's go GIANTS

–I told you NEW YORK BABY game over hahahahaha

–GET THE F*CK OUT OF HERE oh I'm not gonna tell you how much I just won. LORD I'm GOD'S favorite lol

–just watched a 500,000 dollar football game get on my level.Chump

–Ok RT @MyBestAssets: @50cent Lets bet. If the Giants lose the Superbowl, u must post ur d*ck on the twitter. If they win, I'll post my boobs & face on here. Bet?

The girl in question, My Best Assets, tweeted following the bet, "@50cent Ok It's a bet. See your d*ck on twitter Feb 5. Lol"

But after thinking about it for a while she added, "Just reading my mentions about my bet to @50cent . People are way too serious when it comes to twitter."

Boooooo!!! She must have no faith in her team. This is just an example of how some people talk big game. Regardless, a bets a bet and you made it in front of thousands of people! And now millions of people know about it; I'm sure you don't want to lose all credibility.

What do you guys and gals think?

Photo Credit:.thefablife.com