Review: JAMBOX by Jawbone The New Sound In Portable Entertainment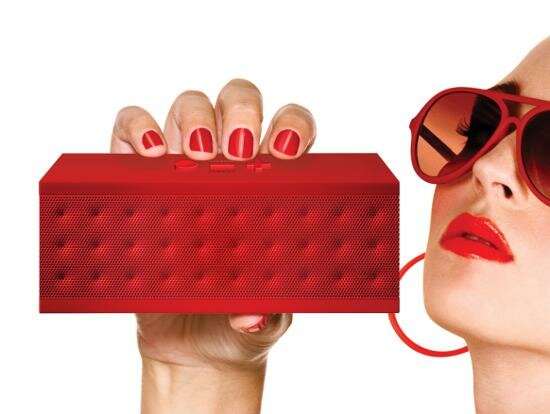 Editor's Note: HipHopRx caters to the hip hop community; in more ways than one. You look to us for news, music, celebrity gossip, current fashion, technology, and new products. But more than anything you look to us, so that we may give you the inside scoop on what's fresh and what will keep your steez one notch above the rest. Today is no different as we bring to you a new product made by Jawbone, that has set the bar for speakers, as it has created the world's first intelligent speaker and speakerphone combined into one!
Jawbone is an industry leader in creating personal audio products that combine's both innovative technologies with fresh modern designs.

Jawbone has created a speaker that is made up of four decades of scientific research and physics innovation that helps produce clear audio and earth shaking bass in a speaker system that fits right in the palm of your hand! Not only that, it's also the first ever speaker that evolves with time. You can sync with Jawbone's My Talk online platform, where it will download apps, software upgrades, and all the latest features that are available.
May I introduce to you the JAMBOX by Jawbone.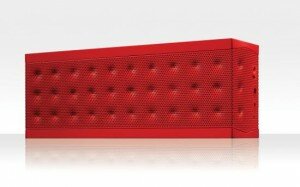 JAMBOX Specs
Built-in microphone
Bluetooth 2.1 radio
3.5mm headset jack
microUSB port
Output level of 85db at 0.5m
Frequency response of 60 Hz to 20 kHz
Battery life of about 10 hours of continuous play
Dimensions of 151 x 57 x 40 mm and 347 grams (12 ounces)
Four available colors and front designs: black diamond, blue wave, grey hex, and red dot
First Impression With Jambox
Over the past few weeks we have put the Jambox speaker over rigorous tests and through several scenario's to make sure that we provided you with a full and honest review.
Let me be the first to tell you that this small speaker will make a statement that completely blows your mind away right from the get-go!
When I reached into the box to grab the Jambox for the first time, it left quite a first impression as it came to life with a deep, rumble that ran chills up and down my spine. It was like a small earthquake that had been caged in a box, waiting to be awakened! I must admit it was a bit intimidating at first!
The commanding intro is just a small sample of the speaker's overall performance. Also, it never ceased to surprise me on just how much sound the Jambox produces at max volume.
The Jambox comes in a large cardboard box with a boom box image on the outside. Inside you will find the Jambox, a User Guide, 60 inch microUSB charging cable, 12.5 inch microUSB charging cable, 36 inch 3.5mm stereo cable, carrying case, and an A/C wall charger.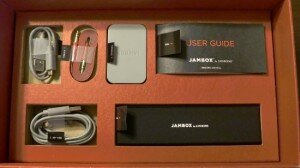 The top of the Jambox has buttons made of solid rubber; a minus, plus and a circle The minus symbol lowers the volume, the plus symbol raises it, and the circle is the standard multifunction key you'll find on many Bluetooth headsets. Holding down the plus key raises the volume one step at a time, while holding down the minus immediately mutes. Tapping the circle connects the Jambox to a phone, i-pad, laptop or any other Bluetooth capable device.  The button also reports the unit's current battery life if already paired; holding it down activates any additional MyTALK software you've installed, such as voice dialing.
On the left, you've got a three-way power switch, a 3.5mm auxiliary stereo minijack to connect directly to alternative audio inputs, and a micro-USB port for charging and software updates.
Jambox Bluetooth Function And Durability
One of the main attractions that the Jambox brings to the public is the fact that you can pair it to any Blue-tooth enabled device, like a laptop, iPhone, iPad, and game consoles.
All you do is hold the Jambox's power button in the "up" position for a couple seconds, and the unit will say "Jamboz is in pairing mode, waiting for device to connect." Or you can also tap the circle at the top of the Jambox and it will also initiate the pairing function, you'll know it's in pairing mode because the speaker will say "Jambox is ready, waiting for device to connect"
Then all you have to do is find the Jambox in your device's Bluetooth pairing menu, select it and you're ready to go! You only need to do this once for each device you use. You can also plug the Jambox to your iPhone or laptop by using the supplied auxiliary cable, but that takes away all the fun.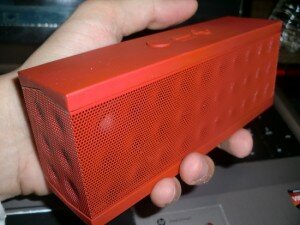 The Jambox is built with style, but it is also built to last!
The top and bottom are reinforced with sturdy rubber that gives you a sense of security in case you happen to accidently drop the Jambox.
By now you know that we can't resist testing a product's limits, so we went ahead and dropped the Jambox from five feet onto the office floor. And just for good measure we took it outside and dropped it on cement! The Jambox was completely unscathed! It did not even have a single ding or dent on it and the sound quality was the same! All I had to do was brush off some of the dirt from the rubber casing after picking it up from outside cement floor and it was good as new.
I did have my doubts about how strong the grille was, but after pressing on it several times I am glad to report that it did not give what-so-ever! The rubber edge's from the Jambox provide extra protection, and also adds plenty of grip.
Sound Quality And Added Features
After pitting up the Jambox against several sound tests we came down to a very clear conclusion. The Jambox is in a league of its own!
The mids are clear and really help you appreciate a singers talent, the highs provide the added energy, but don't worry the lows don't suffer as there is plenty of boom when it comes to the bass. The audio has plenty of clarity and depth. I was very impressed when watching movies from my laptop as the Jambox brought the audio to life!
Not to mention that the Jambox will be sure to make quite an impression at your next social gathering as it pumps the room with 85 decibels of crystal clear music. And just to make sure your party keeps going the battery life will last you up to 10 hours of continues play. I personally used it for over 12 hours of testing before it needed to be charged again.
Jawbone also knows that every person is unique, so they made sure to give you the option of personalizing your own Jambox with the MyTalk software. You can change the voice and the tone of your Jambox, download dial apps and software updates. One of the most recent updates was that of LiveAudio that gives you a richer sound experience. You can toggle LiveAudio on and off by pressing and holding the plus and minus buttons while you are streaming audio after you have updated your Jambox through MyTalk.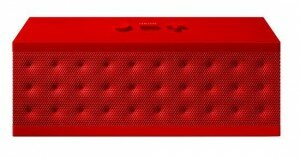 As I mentioned before the Jambox not only serves as a speaker, it also has the capability of being used as a speakerphone. A notable feature when used as a speakerphone is its noise canceling technology. I placed the Jambox about two feet away from my 32 inch TV (while a movie was on), and proceeded to take a call on the Jambox. To my surprise the person on the other end of the line could hear me crystal clear and the reception was perfect.
The Talk button (round button) is used to answer and end calls. During a call you can press and hold the plus and minus buttons at the same time for 2 seconds and then hear the "mute on" words spoken by the speaker. You can also voice dial through a compatible phone by holding the talk button for about 3 seconds. And you can redial by click the talk button twice.
Now here is something that completely blew me away! I had an incoming call, and before I could answer, the Jambox told me who was calling! That's right the Jambox comes equipped with caller ID, so you don't even have to worry about looking to your phone to see who is calling you. It's like having your own personal secretary screening your calls for you.
Bottom Line
The Jawbone Jambox is a Bluetooth speaker that provides advanced features, stylish design, and a full sound that defies its size. There might be a few other speakers that may have a similar quality sound, however they are much bigger and fall far behind when it comes to all the added features the Jambox provides you with. Plus the price of the Jawbone Jambox is actually reasonable considering the sound and the quality of the product that you are investing in.
The Jawbone Jambox is available for $199.99 on the Jawbone site.
Jawbone was able to hit a homerun with JAMBOX.  I was actually thrilled that the Jambox literally outperformed my expectations. The Jambox is proof that big things come in small packages!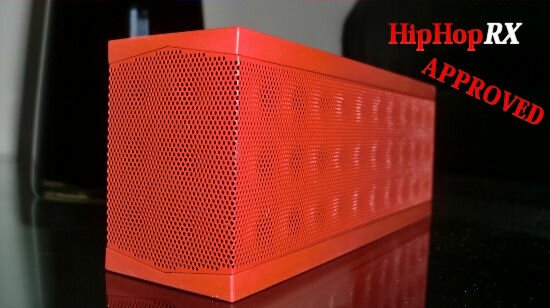 New to HipHopRX? We bring you the latest Hip-Hop news–Free in your mailbox every morning. Click here to subscribe for your daily dose of Hip Hop!
By the way, did I mention that the Jambox is already an international star? It was recently featured in a Music video alongside rap legend Snoop Dogg.
Snoop Dogg and Brazilian rap star Marcelo D2 teamed up to create the hit single from two different countries, using the JAMBOX wireless speaker and speakerphone to collaborate and provide crystal clear hi-fi audio to playback the track.
Be sure to keep your eyes peeled for glimpses of JAMBOX throughout the video!
Snoop Dogg Ft. Marcelo D2- "Obrigado Brasil" (Thank You Brazil) – featuring JAMBOX by Jawbone.