Floyd Mayweather Jr. Called Out Manny Pacquiao:The Fight The Worlds Been Waiting For!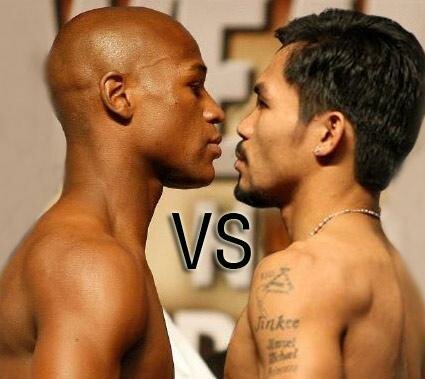 Floyd Mayweather Jr. is finally ready to square off against Manny Pacquiao; he recently issued out the challenge to Pacquiao demanding that he fight him once and for all in Las Vegas. And what better day to have two legend s square off than May 5th.
We had recently reported that, Floyd had gotten his jail sentence postponed, so that he may partake on a "Big Time" fight at the MGM Grand.
Fight fans have been waiting for Mayweather-Pacquiao fight to pop-off years — and now Floyd Mayweather Jr took it upon himself to get things started and called out Manny with the message, "Manny Pacquiao I'm calling you out let's fight May 5th and give the world what they want to see."
Floyd took to his Twitter and Facebook accounts to make sure Manny Pacquiao got the message! And just to make sure he got Manny's full attention he punctuated his challenge with, "Step up Punk."
We've seen this fight develop and fall apart many times before, and we know that both team promoters always disagree. However, they need to consider the fact that this will be the biggest fight in the history of boxing, and they need to capture this moment before either boxer chalks up an L!
By then boxing fans will just lose interest in this match up; much like the villagers who heard the boy who cried wolf one too many times!
Both fighters are in top shape and have dominated almost every fighter put in front of them (Except Manny Vs. Marquez, he seems to give Manny a hard time finishing fights).
It's time to find out who the best pound for pound fighter really is. Neither one can claim that title until they face each other!
Photo Credit:unlimitedwhispers.com