Review: Sculpted EERS Custom Fitted Earphones

Editor's Note:As always HipHopRx is your number one source for the latest in news, music and technology that bring a unique appeal to the hip hop crowd. As the New Year begins we bring to you a new in ear monitor made by Sonomax that has taken a step forward with in-ear monitor technology and set the pace for the rest to follow.
HipHopRX Sculpted eers Review
Generally when you hear "custom ear monitors" you automatically think about a trip to the audiologist, countless inner ear molds to be made and a very pricey bill. Then you have to wait a couple of weeks after the molds are shipped so that the monitors can be manufactured and shipped back to you. Everyone can agree that it is very time consuming and it can be a couple of months before you actually have your custom fitted earphones ready for use.
That is now a thing of the past thanks to Sonomax who have implemented their SonoFit technology and created the Sculpted eers custom-molded earphones. You can take the custom earphone experience straight to the comfort of your own home.  And the best part about it all is that your earphones will be custom fitted/molded in just 4 minutes!
I know, up until now this has been unheard of and some may say impossible! However, I beg the differ!
Sonomax who is a leader in the product development, research, and licensing of in-ear technologies has been able to use their expertise to cleverly construct a custom molded earphone kit that can be used in your office, a store or even in your own house while resting on your couch. The experience truly is one of a kind.
Sonomax created two sound signatures to choose from. The first (PCS-100) uses a single tuned dynamic speaker that delivers enhanced bass response without sacrificing speaker performance. The second (PCS-200) sound signature uses two dual driver balanced armature speakers with crossover that act similar to most home theater systems. The speaker is tuned to provide a flat musicians response allowing users to listen to music as it was recorded.
Nobody knows the importance of bringing you music the way it was meant to be heard more than an artist. As a recording artist myself I decided that I would put the Sculpted eers to the test and see if they could live up to their expectations.
The Fitting Process
To begin the process you are provided with a SonoFit system, which looks like a pair of DJ headphones. You are supposed to have an "animator" (someone else to help you with the SonoFit process), but this system is so easy to operate that even a Neanderthal could do it himself.
It is recommended that you place the unopened sculpted eers in a cool environment (73°) for at least 3 hours prior to fitting (I went ahead and placed mine in a refrigerator for about 30 minutes before fitting). You are then instructed to lubricate both earpieces, clamp the SonoFit system onto your head and insert the deflated rubber earbuds into your ears. The machine will then squeeze liquid silicone into the ear buds, fitting them to the shape of your ears.
During the first few seconds I heard small noises in my ear from the ear buds expanding, but nothing uncomfortable. It was an experience in itself that gave me a sense of calmness, almost as if someone was massaging the inside of my ears. Slowly the outside noise began to drown out as the ear buds were taking shape to my ear. And I found myself in a stage of relaxation and meditation. It had been a long time since I was able to appreciate the serenity that quietness can bring to someone. It was then and there that I realized just how good these earphones were going to be for canceling outside noise.
After four minutes you can slowly take them out of your ears, wipe off the lubricant, and then take them off of the Fit System. You then put the provided end caps on the left and right earphones and you are now ready to rock a new set of custom fitted earphones.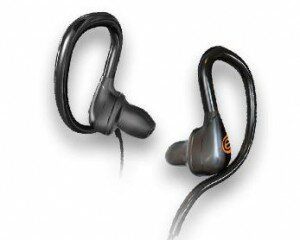 Field Testing The Earphones
I would estimate the sound of my music was approximately 30 percent louder, due to the better fit of these ear buds and the elimination of outside sounds. The comfort level is first class, these headphones will not budge from your ears nor will they create any uncomfortable pain from wearing them too long. However, I would not recommend them while driving or walking anywhere near traffic as they do cancel out most if not all outside noises.
The build quality of the eers headphones is great and seems very durable. The cable for the headphones is made of some sturdy material, definitely made to last. The ear loops that go over your ears go almost unnoticed as they are real comfortable and at times you may forget that they are there.
Another thing that I noticed was that the eers headphones do not need any adjustment while doing any physical activities. I used them while running and never had a problem with them slipping out. I was able to appreciate them even more while I was at the gym. They completely drowned out the people yelling, grunting and the sound of weights hitting the floor. Not to mention that they helped keep me in the zone during my work out by providing me with a clear sound of Yelawolf's "Trunk Muzik" mixtape.
The only drawback to these particular headphones is that the sound quality was a bit drawn back for live recording and mixing. When I took them into the studio for a test run while recording, they failed to accurately reproduce certain sounds. For mixing I would not recommend these earphones, the sound just seemed to lack full depth and will only make your mix sound unleveled and muddy.
To be fair about it though, I am reviewing the PCS-100 which has a single dynamic speaker and focus more on extra bass response.  The PCS-200 might be more appropriate for the studio as they are tuned for a flat response with dual driver speakers.
Final Assessment
Sculpted eers headphones, will run you $199, which is a very affordable price for a set of custom headphones. The technology being used to create the custom experience is worth the money itself. The headphones have a good sound and are made with quality materials, plus you can add the fact that you will have bragging rights of owning custom fitted headphones.
Sonomax has brought forth a very unique product with the new Sculpted eers headphones that will likely catch on like wild fire.
Even though the headphones weren't suitable for the studio they are now my choice headphones every time I hit the gym, take an evening jog or if I just feel the urge to completely tune people out. The comfort level that the headphones provide is surreal.
Sonomax isn't the first company to offer custom fit headphones. They are however, the first ones to bring the whole custom fit experience straight to your home at a very low price.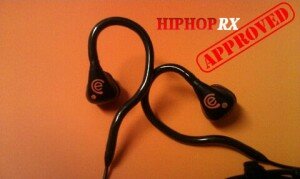 New to HipHopRX? We bring you the latest Hip-Hop news–Free in your mailbox every morning. Click here to subscribe for your daily dose of Hip Hop!
DJ HAPA un-wraps eers™ custom fitting system from Sonomax Technologies and shows you how-to custom fit your own eers in 4 minutes!