Brock Lesnar Says Goodbye To The UFC After Losing Heavyweight Match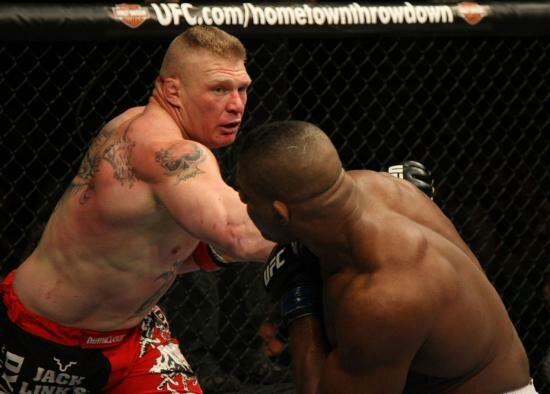 UFC 141 marked the retirement of one of the biggest names in sports entertainment. Overeem beat Brock Lesnar with a first round technical knockout; Brock shocked the world as he announced that he was retiring from ultimate fighting.
"I've had a really difficult couple years with my disease," Lesnar said after the fight. "And I'm officially going to say this is the last time you'll see me in the octagon."
Lesnar added that he had promised his wife, former WWE Diva Sable, and his kid that if he won the fight, he would get a title shot and that would be his last fight. If he lost, as he did, he would retire.
UFC promoter Dana White said he didn't know Lesnar planned to retire so suddenly…
"I had no idea he would do that, (but) am I surprised? No," UFC President Dana White said. "Brock Lesnar has made a lot of money in his career and has achieved a lot of things. … He brought a lot of excitement to the heavyweight division. What he accomplished in a short amount of time is amazing, but I get it. It doesn't shock me."
While with the UFC, Lesnar won the Heavyweight Championship from Randy Couture on November 15, 2008 and then at UFC 100, defeated Interim Champion Frank Mir to become the Undisputed UFC Heavyweight Champion. He soon ran into health issues and was never the same after.
The big man battled the effects of the intestinal disease diverticulitis for two years. The disease stripped Lesnar of a lot of his power when it was at its worst. On November 16, 2009 Lesnar underwent surgery to close a perforation in his intestine that had been leaking fecal matter into his abdomen. It overtaxed his immune system and almost killed him.
With the untimely retirement of Brock Lesnar the UFC will have to scramble to find a new face that can promote the UFC as Lesnar was able to. During his reign in the UFC Pay-per-view sales were the biggest when the big man fought. Tickets were harder to get when he was topping the bill. Media interest was at its highest.
His time as a professional wrestler taught him how to attract attention, how to work a crowd. He commanded a room when he entered it, his booming voice taking over a press conference.
Many may think that perhaps Brock might be heading back to the WWE, however this might be unlikely as he is still under contract with the UFC for a number of fights.
During a post UFC-141 press conference, Dana White commented that, while Brock Lesnar was retiring from MMA, he is still under contract to UFC and could not pursue a deal with WWE or any other pro wrestling promotion without his permission.
One thing is for certain though, Brock Lesnar weather you cheered for him or not Brock Lesnar will be missed by the UFC and its fans.
Photo Credit:blogs.canada.com