T.I. Hooks Up With Dr. Dre For New Mixtape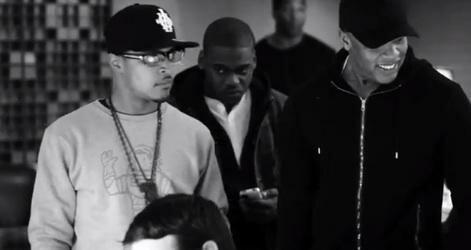 T.I. recently released the second trailer for his upcoming mixtape Fuck Da City Up, which will drop New Year's Day.
He left fans drooling by including footage of him in the studio with Dr. Dre from a recent interview with MTV News. T.I. said that the two were "creating chemistry" for the tape.
"Dre was here. He sent for me over to the spot. We really just turned up more than anything else. It was about creating chemistry," he said.
T.I. has also worked with Dre on the song "Topless" that leaked several years ago. Together they may be able to create some real special music, but he wants to develop their chemistry more than anything else.
"Of course we can get together, he got hot beats and I got dope rhymes, so we can always get together and make music," he continued. "But for people to feel what we're sayin' and for it to sound like a party comin' through your speakers, you gonna have to create some chemistry. So that's what we spent more time doin' than anything else; developing that chemistry."
Photo credit:ditcradio.com