Phosphor MANN BUZZIN Appear Watch Review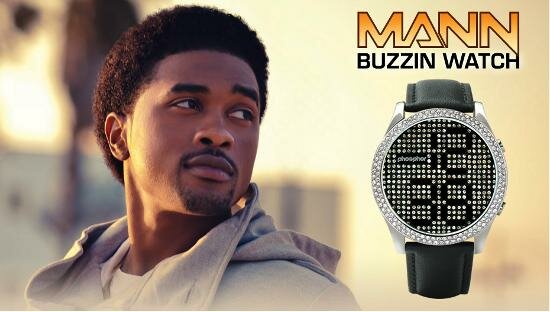 At HipHopRx we like to be unique in every sense possible. We aren't ones to follow trends rather we are trend setters, starting from our posts, interviews, clothes, right down to our watches. Phosphor not only understands this concept, they also cater to the idea of being creative while setting the tone for originality.
Phosphor, who is well known for their work with E-Ink based watches, took a new direction with their watch line when they added the Appear line. Not one to settle, they took it a step further by combining the charisma of rising hip hop artist MANN and the Appear line and came up with the Phosphor MANN BUZZIN Appear watch.
At first sight, the Phosphor MANN BUZZIN Appear looks like a high priced fashion watch adorned with gems on the dial and the bezel (the dial and bezel are covered in Swarovski crystals). The watch has not only a one of a kind design, but it goes far and beyond when it comes to the method in which it displays the time.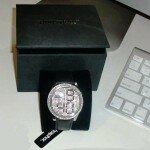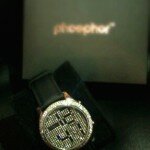 The secret lies in the Micro-Magnetic Mechanical Digital technology. The watch utilizes miniature sized rotors to mechanically rotate the crystals which then display the time in a rather fashionable manner.
It's hard not to notice the watch due to the shine it produces, even more so if the watch is set to the "off" mode. When you press the top button, the watch transitions to "time mode" and the display jumps to life. The once bejeweled areas of the watch are swapped for black segments that display the time.  The time is produced in a read out similar to that of a digital clock.
Another unique feature to the watch is when it cycles through hours, minutes or seconds it makes an intriguing mechanical click as each segment falls in or out of its place. It's only loud enough to draw attention from someone who is curious, but not loud enough to where it keeps you from concentrating at any task on hand. Although I must admit when I first got the watch the sound kept me somewhat mesmerized for the better part of the day.
You can also hit the bottom button and switch over to the "seconds" mode. After sixty seconds the watch will then default back to "time" mode.
Also, a very important feature that I feel that needs to be mentioned is that the watch is equipped with a shock sensor that detects significant shocks caused by any hard impact. If this occurs the watch automatically drives the numerical segments to their correct position. In other words you don't have to worry about it breaking down on you if you accidently drop the watch.
But enough with the technical stuff, I know many of you are wondering how the watch holds up when you are out and about. Let me warn you, if you are not used to having attention get ready to feel like an A-list celebrity! You will be stopped by many people who can't help but be curious about the watch and its value.
Some even go as far as to assuming the value of the watch and asking "how many G's did you drop on that?" I couldn't help but crack a smile every time.
I've had compliments almost everywhere I go. Most people assume that the watch's bezel is covered with diamonds, and when I tell them that it's actually Swarovski crystals it does not deter them from being amazed by the actual ingenuity of it. When I actually show them the functions of the watch they immediately show a face of amazement.
The design can only be described as one of a kind!
However, I wanted to make sure that watch was not only made to look good, but also built to last. So I did the unthinkable…I purposely dropped the watch from about 6 feet off the ground.
I have to say I was really amazed to see that the watch survived the fall to the ground.
To be honest I thought that perhaps one of the crystals would fall off the bezel or that it would stop functioning correctly, but to my amazement it stayed intact and functioned as if it had never left my wrist.
By now many of you may be wondering, "Ok, so how big of a dent is this watch going to put on my wallet?" The Phosphor MANN BUZZIN Appear retails for $249 and believe me it is worth every dollar and more!
This watch is a must for any guy who appreciates style and likes the occasional attention. And who doesn't like attention, especially from the ladies.
I give it an A+ for uniqueness, price, ingenuity, and because with this watch around your wrist people will automatically give value to your time!
The Phosphor MANN BUZZIN Appear watch is officially HipHopRx approved!
Also, be on the lookout we will be giving away two Phosphor watches from their Appear line in the coming months. Details will be available soon.
Our thanks to Phosphor for providing a review sample.