Madonna and M.I.A. Give Nicki Minaj A Special Treat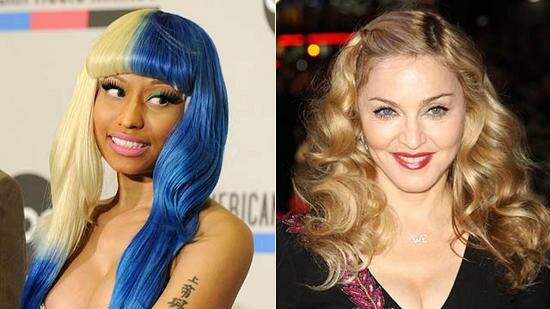 Nicki Minaj got a one of a kind superstar birthday greeting for her 29th birthday this week when Madonna and M.I.A. both sang "Happy Birthday" to her.
Nicki, M.I.A. and Madonna were together filming the video for their new single "Give Me All Your Love", but while on set they took some time off to sing to Nicki and celebrate her birthday.

Nicki was not only surprised, but also moved by the fact that Madonna was able to sing to her.
"Thank you so much. I have to thank the Queen Madonna for giving me this amazing opportunity. I love her so much. She didn't have to do this for me with M.I.A. but we love you."
"We love you too," Madonna and M.I.A. are heard screaming at the end.
Ok, I know there will be tons of critics who will want to slam on Madonna's lack luster singing performance during this recording. Most of us expect Madonna to well….sing like Madonna! Perhaps she needs to be in a studio environment to really let her full voice come through.
But I'll let you make up your own mind. Listen to the song below.
Photo Credit: theinsider.com
Madonna and M.I.A Sing Happy Birthday to Nicki Minaj by Madonna