Justin Bieber Brings Holiday Spirit To President Obama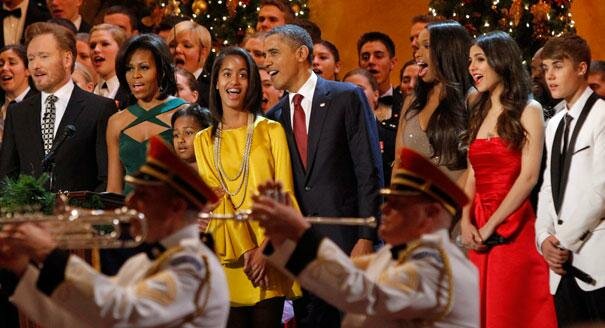 The singer performed his current hit song Mistletoe at the 30th annual Christmas in Washington concert on Sunday.
The event was held in front of the entire presidential family including President Obama, First Lady Michelle Obama and their daughters Sasha and Malia.
Justin had a great time at the concert that he took to his Twitter account and shared his excitement.
'Great night!' he wrote. 'President Obama is one cool Prez. He told me he was 'chillin,' (sic).'
Bieber was joined by acts including Cee Lo Green, Jennifer Hudson, The Band Perry and Nickelodeon star Victoria Justice who all took turns singing holiday classics and some new hits.
Cee Lo opened the show with his own renditions of This Christmas and Santa Claus is Coming to Town.
Jennifer made quite an impression with her performance of Do You Hear What I Hear with the help of the American Family Choir.
"I don't know how many times I've sung for the president, but every time feels like the first time," she told USA Today.
To close the evening, Obama and his family came together on stage with the artists and sang the carol Hark! the Herald Angels Sing.
The holiday concert special which supports the Children's National Medical Center will air on Friday on TNT.
Photo Credit:fresnobee.com