Eminem Will Be Joining Lil Wayne On Tour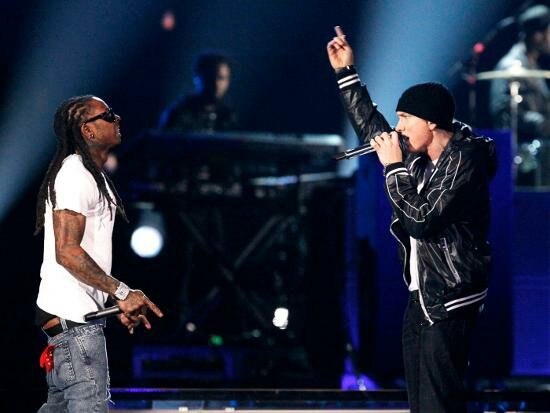 Lil Wayne confirmed that Eminem will join him on his international tour.
The Young Money rapper has already scheduled shows with Slim Shady in Australia.
He made the announcement on his official Facebook fan page.
'Headed to Fiji,Australia,then S. Africa…on tour with Slim Shady…a blessing…thx to those who supported C4! 2x platinum! Love y'all (sic),' he wrote.
Both artists have previously worked together on Lil Wayne's 2009 single Drop the World. The news comes after Lil Wayne's ninth album Tha Carter IV was certified double platinum in the US.
The album was leaked shortly before it was scheduled for release.
However, the Weezy remained positive and was haapy to see that people were so desperate to listen to his new material.
'It just means people want to hear it. I mean, 'cause there're people's albums that come out that can be leaked and don't leak, so I'm glad mines leaked," he told MTV News.
Photo Credit: rapradar.com