50 Cent And Rourke Plan To Get Another Project Rolling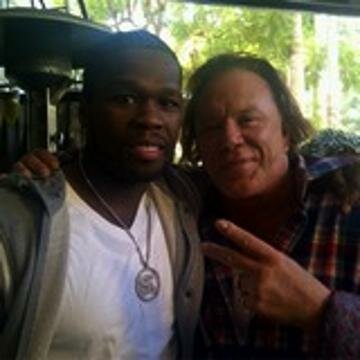 50 Cent says be working with Mickey Rourke again 'soon'.
The pair met up to discuss their plans over lunch together yesterday. 50 Cent posted a picture of them with their arms round each other along with the announcement, on his Twitter account.
'Had lunch with Micky Rourke today were goin 2 work together on another film soon …(sic),' he tweeted.
Mickey and 50 Cent previously worked together on 2010′s 13 alongside Jason Statham and Alexander Skarsgard.
50 Cent has had a busy year with the release of a new semi-autobiographical book about bullying and his fifth studio album due out in December.
The star has also had roles in movies such as Get Rich or Die Tryin' and Things Fall Apart.
50 is all business, however maybe he should try to get some rest every chance he gets. We are all aware by know that many artists are getting hospitalized due to fatigue, so hopefully 50 stays well rested and healthy.