Cameron Diaz And P. Diddy Getting Very Friendly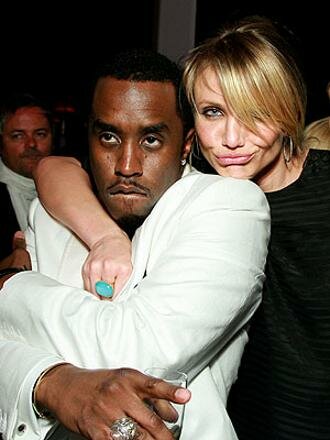 It's been reported that Cameron Diaz and Diddy have been spending plenty of time together recently.
Cameron called it quits with baseball player Alex Rodriguez in September after the pair dated for over a year.
The stunning actress has been out with friends since the breakup, seemingly enjoying her life as a single woman.
However, Cameron and longtime friend P. Diddy have been seen out in New York City spending time together in recent weeks. A friend of Cameron believes that her close relationship with Diddy is the start of something special.
"It"s early and not exclusive," a source told Life & Style magazine.
"Diddy is someone Cam can have fun with, no ties at all."
Cameron and P. Diddy had dinner at seafood restaurant Catch Roof in New York City together on October 24. The following day the couple took a walk through Washington Square Park together.
Cameron appeared to be delighted while walking alongside Diddy in the park.
"Cameron was beaming," said an onlooker. "They looked really comfortable together."
This may not be the first time Cameron and Diddy have linked up romantically. In 2008 they reportedly shared a passionate kiss at musician Prince's house party in Los Angeles.
"She was the last person to show up, and I was standing there with a friend of mine – we looked over at one of the lounge chairs and we were like "Do you see that?" She was making out with Diddy!" a party attendee recalled.
Well it's a great way for them to both make headlines and with the holidays right around the corner, why not have someone to spend them with.