Rick Ross Talks About Seizures, Blames It On Sleep Deprivation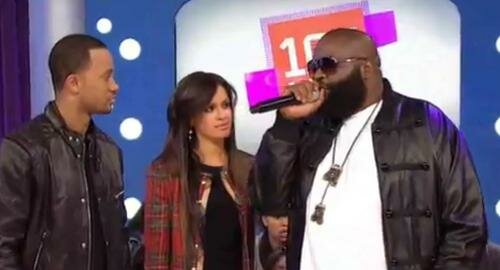 Rick Ross recently talked about his seizures and why they came to be.
Rick Ross gave the Hip Hop community a scare when he suffered two seizures in the same day earlier this month. He know assures fans that he's on the road to recovery.
During an appearance on "106 & Park," The Boss appeared in a good mood and explained that his medical emergency stemmed from sleep deprivation and that he has a clean bill of health.
"What it was was I was going about my business as every day. I boarded a flight, and on the flight, I had a seizure and when I snapped out of it, they told me what had happened. I was like, you buggin', call a jet, we finna keep it moving. Because I understand me growing up and hearing about seizures, they can be violent, you bust vessels and bite your tongue up and this and that and in my case, it wasn't none of that. I felt a little worn out, but I felt I could keep going and that's what it was."
He then recounts when he got on a second plane and had another seizure. When he awoke, he realized the source of his problems.
"I boarded a jet and I had another seizure, and when I snapped out of that one, I woke up in front of a doctor and he asked me basically, 'When was the last time you slept eight hours?' and I said 'It had to at least been five years.'
Being the fastest growing label in the game, it comes with a lot of sacrifices. And in my case, it was sleep. I would get two hours of sleep and keep moving, me being a hustler. And that has to stop.
"I came back totally healthy," he added. "It was a case of me not getting enough rest, not getting enough sleep."
Oddly enough Rick ross admits that instead of getting rest like he was supposed to he just netted "the biggest collaboration that we've done for my album" with Hov.