Snoop Dogg Shows Big Interest In Vegetation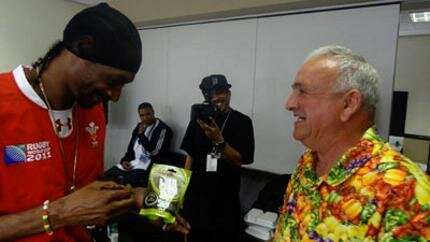 Snoop Dogg will get high with anyone,literally!
Snoop Dogg knows a thing or two about vegetation, but he is seeking advice from the best to hone in on his skills.
Snoop somehow heard about a Welsh farmer who'd grown the world's biggest radish, then invited that farmer to his show and got high with him. Seriously. That really happened.
Snoop Dogg somehow heard about a farmer who recently grew the heaviest swede and went on to declare his respect for the gardener in a YouTube clip.
Snoop, wearing a Cardiff City shirt and standing against a background of cannabis leaves, sends a "shout out" to Mr Neale in the video.
"Man, I want to tell you something, when I do my show in Cardiff, I want you to come backstage and see me because I do vegetation myself and I want to know your secret," he said.
"So Ian Neale… come see your boy Snoop Dogg, I've got two tickets for you when I get to town. Ya dig?"
It's a bizarre situation that actually lead to this unbelievable exchange during an interview:
Farmer: "I went down to the box office and got my VIP pass to show my friends."
Reporter: "So you met him last night?"
Farmer: I met him last night, and had a smoke with him. I don't smoke, but he offered me one and I took one."
Reporter: "I assume that was just tobacco."
Farmer: "(Laughs) No it wasn't!"
Ian Neale, 68, from Newport in South Wales, holds the world record for the heaviest swede, weighing in at 38kg (85.5lb).
Every time I think I know everything there is to know about Snoop Dogg he surprise's me with something new. One thing I will give him credit for is that he is always active with projects whether they are professional ventures or simple hobbies, Snoop does it all.