Dan Wheldon Passes Away After 15-Car Crash At Las Vegas Indy 300 (VIDEO)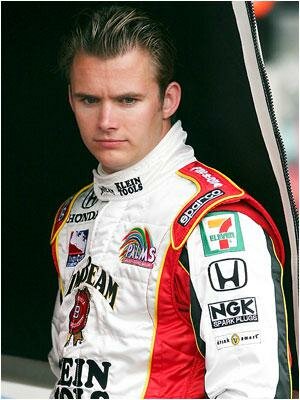 Massive car wreck at the Las Vegas Motor Speedway claims the life of IndyCar race star.
Here at hiphoprx we are dedicated to bringing you all the latest up to date music news that is going on the hip hop scene however, we also tend to bring late breaking news from sports industries and yesterday marked a big loss for the IndyCar Association.
IndyCar Driver Dan Wheldon died in Las Vegas yesterday (Oct. 16) after his car crashed during a massive 15-car accident during the Las Vegas Indy 300.
Wheldon's car went airborne after hitting another car during Lap 12, then apparently caught part of the catch fence just outside of Turn 2.
The 33-year-old racer was a two-time Indy winner, including this year's race.
Weldon was airlifted from the track to University Medical Center; about two hours later, his colleagues were told of his death.
"IndyCar is very sad to announce that Dan Wheldon has passed away from unsurvivable injuries," IndyCar CEO Randy Bernard said. "Our thoughts and prayers are with his family today. IndyCar, its drivers and owners, have decided to end the race."
In his honor, drivers took part in a five-lap salute around the oval.
Sunday's wreck left Townsend Bell upside down while smoldering cars and debris littered the track nearly halfway up the straightaway of the 1.5-mile oval.
Wheldon won the Indianapolis 500 in 2005 and 2011.
A rep for GoDaddy.com, one of Dan Wheldon's sponsors, sent this statement on behalf of their CEO and founder, Bob Parsons:
"Our thoughts and prayers go out to Dan Wheldon's family and friends on this sad, sad day. All of us in the IndyCar family feel an unexplainable sense of loss. Not just for the sport, but for all who knew Dan Wheldon. Dan was a family man, a father, a husband, a son and a brother. The two-time Indianapolis 500 winner was also a competitor and a colleague … our deepest condolences go out to all who knew Dan."
Wheldon died yesterday during a race in Las Vegas. He was 33.
Our thoughts and prayers go out to Wheldon's family.