Nicki Minaj Encourages "Super Bass" YouTube Stars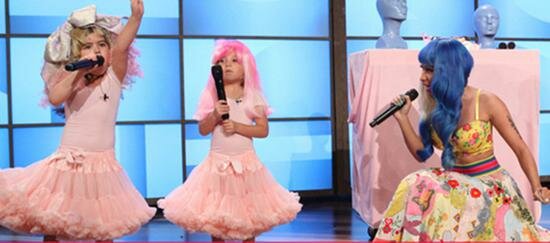 By now everyone has seen the YouTube cover of Nicki Minaj's "Super Bass", that was performed by 8 year old Sophia and 5 year old cousin Rosie
They recently got an early treat for Halloween, they got to meet and sing with Nicki herself!

The tutu-weaving girls made an appearance on an episode of "The Ellen DeGeneres Show," where Minaj surprises them whith a makeover, shopping spree and the chance to do a duet.
"Within five seconds of seeing this video I was calling everyone.  I was also receiving a billion emails.  Everyone was like you have to see this little girl," Nicki says of the YouTube video — which now has almost 7 million views.
Well, like I had said before Sophia has talent and it's clear that her fame is going to know give her and edge over others to try to acquire a musical career.
However, we do hope that she make music which is a beat more appropriate for her age.
Watch the video below to see how it all went down.