Eminem Shady 2.0 Set The Bar For 2011 BET Hip Hop Awards Cypher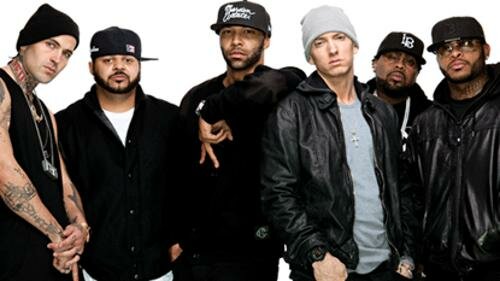 The Shady 2.0 crew set the mark for everyone to follow, alongside DJ Premier
Eminem joined his Shady Records brethren during the 2011 BET Hip Hop Awards, joining forces with Slaughterhouse and Yelawolf to spit as part of a Cypher while DJ Premier manned the wheels of steel.
Yelawolf was the first to clock in, going berserk with a double-time rhyme over the laid back beat.
Joe Budden followed with a direct approach to all in attendance. Then came Crooked I, Joell Ortiz and Royce Da 5'9.
Eminem closed out the cypher only to come in weak on his intro (or so we thought),but quickly let us know that it was all part of the 2.0 show as he blazed the mic up with quick jaw dropping lyrics and punch lines.
Once again he proves why he is at the top right now and why he doesn't plan to leave that spot any time soon. Plus with the creation of Shady 2.0, they seem to be an unstoppable force.
Watch the freestyles below.