Slaughterhouse Give A Taste Of New Track "Who's The Illest"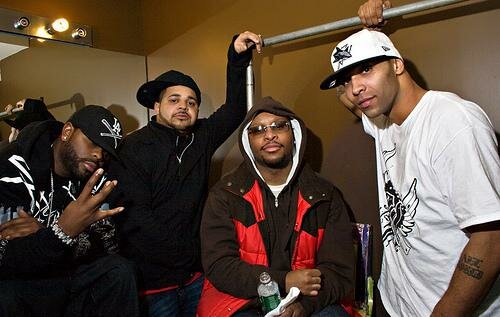 The Shady Records super group gives a preview of a freshly recorded cut.
Slaughterhouse has got to be one of the most anticipated groups that's getting an album together for everyone's listening pleasure.
They recently previewed the new song "Who's the Illest" while hanging out in an Atlanta, Georgia studio with singer-songwriter Novel.
The quartet, which consists of Joe Budden, Joell Ortiz, Crooked I and Royce Da 5'9 is currently prepping the release of its Shady Records debut.
Nickel Nine recently spoke on the status of the LP, revealing that they have more than 20 songs already recorded.
"I can't really give too many details about that, because I don't really know what we're using," he said. "But we've been in with a lot of big-time producers. But I think after one or two more trips we'll have more of an idea what songs we're using. … We've got over 20 songs done already and we're probably only gonna use probably 13. So we're in a good place with that album."
Check the Preview song below.
Slaughter House – In ATL Studio PART1 from Novel on Vimeo.