Chael Sonnen Calls Out Silva After Defeating Stann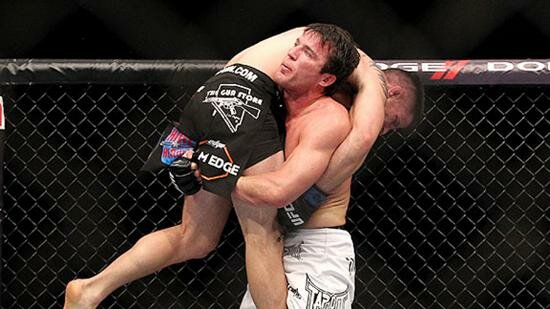 "Anderson Silva you absolutely suck!"
Those were the words that resonated Saturday night in Housten ,TX as Chael Sonnen declared war on Anderson Silva.
Ever since his last minute loss to Anderson Silva and post controversy about the fight It's all been personal to Chael and now he is making it personal to fans.
Sonnen treated Brina Stann the middleweight division's most up-and-coming name, as nothing more than a turnstile. He walked right through him. And as he walked away from the scene without any outward celebration, the first words off his lips were, "Anderson Silva, you suck."
The big reveal was something most people already suspected, that Stann was incidental to Sonnen's mission.
Forget ring rust after 14 months of turmoils and all the asterisks he brought in. He wasn't going to be stopped.
And beating Stann was never his goal. Getting back to Silva was.
You could see the change on Silva's face during the postfight call out, which changed from happy to "here we go again."
But Sonnen made Silva, Dana White and UFC fans an offer they couldn't refuse!
Should Silva lose, Sonnen proposed, he'd leave the division. Yet should Silva beat him, he would leave the UFC.
We all know that Chael is a fighter, but he also knows how to promote and sell a fight. So he added some icing to the cake by stating that the showdown would happen on "Super Bowl Weekend."
He's the master of planting seeds. Sonnen's words resonate to every listener, but what he's saying makes people want it.
And that's where it gets good. There's a very real belief that vengeance is on the horizon, and that Sonnen will back up everything he says.
After dominating Silva through four straight rounds he came within a couple of minutes of finishing a Silva at UFC 117, and after that fight he said he felt his guts had been torn out.
He's carried that hollow feeling this far, and he'll carry it back to Silva for that rematch. The sense of unfinished business is strong; the play at closure carries the drama. The fact that he is the only fighter to make Silva look human also speaks its own volumes.
And now Silva can't run from this challenge, because let's face it Sonnen is the only competition left for him in the middleweight division.
It has been said that a great champion is made by never backing down from a great fight. Not how many fight's he's won.
With that being said; Silva, Sonnen I will see you on Super Bowl Weekend and may the best man win once and for all.