T. I. Released from Halfway House!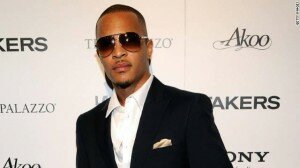 T.I. is a free man once again!
The Atlanta rapper made a quiet exit from an Atlanta halfway house just after midnight Thursday morning.
He was met by chauffeur in a black SUV Thursday morning after serving 10 months and surprisingly enough this time around there was no fanfare, no producers and no tour bus to greet him at the exit.
Throughout his prison term there was much controversy due to him being sent back to prison previously after getting into a tour bus and conducting business with a producer while in route to the halfway house in Atlanta, this action was said to be a violation of his prison term so he was quickly sent back to prison upon his arrival at the half way house.
After a second time of being sent to the halfway house he finally completed his prison sentence and was finally able to step out a free man.
He started his release by celebrating with family who threw him a "welcome home" party.  It featured a family-recipe mac'n cheese, fried and BBQ chicken, fish, ribs, collard greens, salad and RED VELVET cake. Basically it's going to be a feast filled with mountains of Southern-style cooking.
T.I. was arrested in September 2010 in Los Angeles on drug charges. A judge sentenced him to 11 months in prison for violating the terms of the probation he received after he was convicted of federal firearms charges. He has announced that VH1 is making a documentary about his release from prison.
He also has a novel coming out soon about his youth in Atlanta.
Welcome home T.I. we look forward to seeing what new music you bring out for your fans.