DMC Puts "King of Rock" on the Auction Block for Charity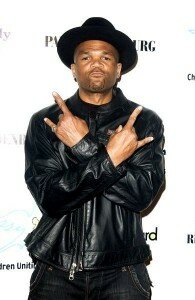 DMC Puts "King of Rock" on the Auction Block for Charity
Darryl McDaniel, hip hop legend and one third of the groundbreaking rap group Run-DMC, is hoping some quality time with the "King of Rock" will raise big bucks for a cause close to his heart.
Darryl McDaniels or "DMC" as most of the world knows him, achieved massive global success in the 1980s as a member of rap Run-DMC with Joseph (Rev. Run) Simmons and the late, great Jason (Jam Master Jay) Mizell.
The multi-platinum music group sold over 30 million singles and albums worldwide, with hit songs such as  "Walk This Way", "It's Tricky", and "King of Rock."
Run-DMC permanently changed the music culture and paved the way for a generation of rap and hip hop greats to come.
McDaniels is now partnering with leading charity auction site charitybuzz to raise funds for The New York Foundling. He is offering to have lunch with the highest bidder and a friend in NYC and give them 4 VIP tickets and backstage passes to the DMC show of their choice.
Founded as a home for abandoned children, The New York Foundling has been saving children, preserving families and building communities since 1969.
Bidding is open now through Tuesday, October 4th, at charitybuzz: http://www.charitybuzz.com/catalog_items/269808
The experience is valued at $10,000. And is sure to be worth every penny of it!
McDaniels' forthcoming solo project will be what he described as Run-DMC's 1985 album King of Rock "on steroids".
Charitybuzz raises funds for nonprofits around the globe through thousands of star-studded online charity auctions.
I have to say that here at http://www.hiphoprx.com we salute Darryl McDaniels [DMC] not only for helping pave the way for a new generation of music, but also for giving back to the community.