T.I. Will Release A New Song On Monday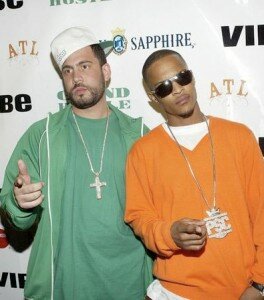 T.I. Will Release A New Song On Monday, Produced By And Featuring Big K.R.I.T.
DJ Drama recently revealed that T.I. will release a new track next week. According to him the track will arrive on Monday and will not only be produced by, but also feature Big K.R.I.T.
"The record that [T.I.'s] dropping next week features Big K.R.I.T. on it," Drama said of the song, which will serve as a street anthem single. "K.R.I.T. produced it."
Tip, who will be released from his halfway house next Thursday, has been recording tracks since his prison release, amounting to more than a dozen tracks.
"Basically when he's in the halfway house he's allowed to still work," he continued. "So he's been in the studio working. You know I was in there the other day, by the second day that I went in I had already heard like 13, 14 songs; new songs. Pharrrel came the other day when I was in there. He dropped off a couple new joints. He already sent something the day before. That was done."
Many are eagerly awaiting the release of not only his tracks, but also the release of T.I. himself.
T.I. has always delivered rich lyrics that connect with fans on every song he has featured in or singled.
And regardless of the trouble and situations he finds himself in, the fans are always there to show him their support.
As a favorite artist among the elite talent in the hip hop scene, we highly anticipate the new material the artist is bringing out and hope that this time he can stay out of prison for good.