KREAYSHAWN DISSES THE GAME: CALLS HIM FAKE BLOOD!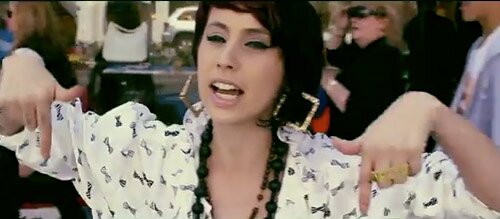 KREAYSHAWN DISSES THE GAME: CALLS HIM FAKE BLOOD!
Kreayshawn has taken all she can take and she can't take no more!  She has been verbally attacked from many rappers and critics alike.
But one recent track or freestyle released by The Game has finally gotten her to crack!
She recently commented on The Game, taking some jabs at her in a recent freestyle.  And this is what she had to say.

"I wanna slap a grown-ass man in the face," the East Oakland rapper said, before plotting a more non-violent form of retaliation. "I'm going to say, 'Game's a weak ass Blood, he ain't about to do s**t.' … Am I just supposed to get dissed every day and be a weak ass little white b***h? F— that s**t. I'm tired of people disrespecting me."

Here is what The Game said originally:

And I dont wear no Gucci Gucci Fendi Fendi Prada
I'm Charles Louboutin, you ni***s aint sayin' nada
Lil white b***h better stay in ya place
You call me a n***a, I'ma put the K in ya face
It's a stick up b***h
One thing that Kreayshawn needs to realize is that when you come into the hip-hop scene, you are eventually going to get attacked verbally regardless of what you are doing right or wrong.
So this should come of no surprise to her or anyone else. However, she needs to realize that the type of content she is using in her music is like painting a target on her back and yelling out "you can't touch me"
The only surprise to me was that Game actually made his thoughts about the East Oakland rapper public to the music world.
And my question to him is this.
Game why would you want to pick on someone one who is one fourth your size, or talent for that matter?