Is Victor Ortiz Thinking About a New Career?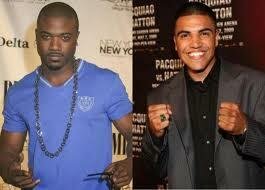 Is Victor Ortiz Thinking About a New Career?
R&B singer Ray J. has teamed with boxer Victor Ortiz to record a new song titled "Baddest Girl."
Boxer victor Ortiz who just came out of a loss with Floyd Mayweather is now trying to venture into the music industry.
He recently collaborated with singer Ray J in a new dance track called "Baddest Girl" the song mostly features Ray J singing, but at about the 2:02 mark you can hear Ortiz rap.
The release of the song has most people scratching their heads, as Ray J is a close associate of boxer Floyd Mayweather, who knocked out rival Victor Ortiz out during a controversial bout two weeks ago.
After the fight, Ray J accompanied 50 Cent and Floyd Mayweather to an after party at the Palms Hotel, but the singer was kicked out of the venue, for getting into an altercation with rapper Fabolous.
So why is Ortiz now rapping and more importantly why did he collaborate with Ray J?
Could it be that he is trying to hold on to the spotlight for a while longer, did Maywheather knock the sense out of him, or perhaps it's just as simple as trying to make some more money.
We all know that he needs to work on staying focused and keeping his hands up during a fight. Perhaps this is just another hint of how serious Ortiz is about his boxing career.
Well one thing that both Ray J and Ortiz have in common is that they were both mismatched in their recent fight at Las Vegas. So the question is should we chalk this one up as another Loss for both of them?
Of course, we want to know everyone's thoughts about this.