Dr. Dre's "Detox" is Getting Mixed!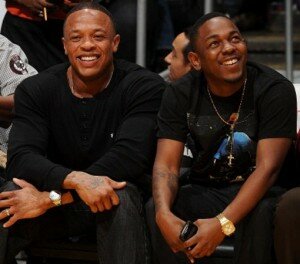 Dr. Dre's "Detox" Is Getting Mixed!
With so many speculations time and time again, many have just come to think of Dr. Dre's infamous Detox album as a piece of music history that has yet to be.  Or rather, that might not ever be.
The album has been in the making for years and many have come to believe that it will never be released.
However, rapper K.Dot who is also a featured contributor to the detox album swears the album is in the mixing phase.
Kendrick Lamar has previously spoken on working with Dr. Dre for his elusive Detox album, but promises that the near mythical album is finally on the way.
During an interview with Shade 45's Sway Calloway, K. Dot said that the LP is getting mixed.
"Detox is getting mixed. That's all I can say. It's getting mixed. I could say anything about Detox, nobody would ever believe me," he said. "I got a few(songs). I don't know what'll stick, as of yet. The creative process is so crazy as far as going in there and narrowing down all these songs, thousands of songs."
He also touched up on Dre's work ethic, explaining that he is a perfectionist and expects nothing but the best from himself and his collaborators.
"Perfection! Dre is the ultimate perfectionist. He's not scared. He hears sounds that the average human being can't even equate with the human ear. I've been in sessions with him. It's perfection," he stated, recalling his first session with Dre.
Rumors have said to be that heavy promotions for the album might start as early as mid November.
As a big fan of Dre and great music I always have high hopes that the album will one day come to be and that it will live up to its expectations.
However, history has come to let me believe that it is only something we can all hope for and not something we should come to expect.