Racing to Be Hip Hop's First Billionaire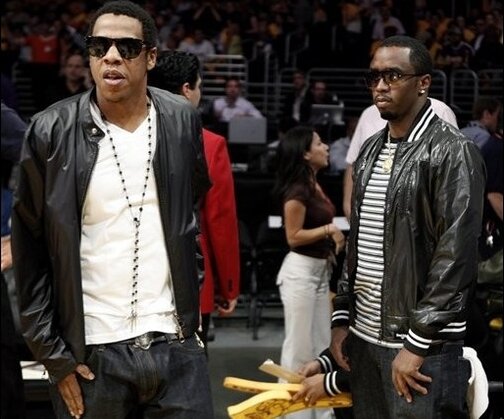 Racing to Be Hip-Hop's First Billionaire!
Yesterday marked the launch of the Forbes 400, our annual list of America's richest citizens, headed by Bill Gates, Warren Buffett, and Larry Ellison.
There are five artists to watch for: Sean "Diddy" Combs, Shawn "Jay-Z" Carter, Andre "Dr. Dre" Young, Bryan "Birdman" Williams, and Curtis "50 Cent" Jackson. All five already boast nine-figure fortunes, and are well on their way to answer our question. Who will be the first to a billion?
Diddy is currently the closest, with an estimated net worth of $500 million.
He is well known for his Sean John and Enyce clothing line, marketing firm Blue Flame, but above all else his record label Bad Boy.
Jay-Z comes in close second with an estimated fortune of $450 million. Beyoncé's husband sold his Rocawear clothing label for $204 million in 2007 and signed 10-year $150 million Live Nation deal in 2008.
He still holds stakes in a wide range of businesses including the soon-to-be Brooklyn Nets NBA team, the 40/40 Club chain well known for their extravagant night life, ad-firm Translation, cosmetic's company Carol's Daughter and other ventures.
The one hip hop artist currently climbing the financial charts at a rapid pace this year Dr. Dre, comes in at a third place.
The bulk of his $250 million fortune comes from Beats Electronics, the headphone maker Dr. Dre founded with Interscope chief Jimmy Iovine in 2008.
In early August, handset maker HTC paid $300 million to buy a 51% stake in Beats. Sources say Iovine and Dre each owned a third of the company before the deal; FORBES estimates that Dre will take home $85 million after taxes.
Coming in at a fourth place Birdman makes no secret about his billion dollar dreams.
The New Orleans-born rapper cofounded Cash Money Records with his brother Ronald two decades ago and obtained a very favorable $30 million distribution deal with Universal in 1998
The label's value has soared with the success of rappers Drake, Nicki Minaj and Lil Wayne, all of whom climbed mile stone markers this year in the music industry; bringing his total net worth to an estimated $110 million (he insists he's worth more).
50 Cent rounds out the "Forbes Five" with $100 million. After receiving nine figures for his Vitaminwater stake in 2007, 50 splurged freely on cars and renovations for his mansion, formerly owned by Mike Tyson.
However he still has a nice cushion of stacks that come from his acting roles, major movie deals, 50 Cent themed video games, books, clothes and headphones.
Not to mention that he just released a new energy shot called Street King. Which not only promises to feed hungry children but also fatten up his wallet.
50 also explains that he sees Jay-Z as his most significant business rival, "If you're in a category, you have to find someone you respect enough to consider a competitor. And you use each other in positive ways. They make a good move, you make a good move. If there is nobody for that then there is no inspiration.'
With that being said the race to a billion is well under way and now it's just a matter of who will finish strong.